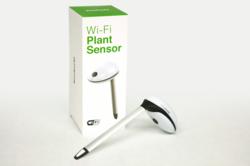 Koubachi's award winning Wi-Fi Plant Sensor takes the guesswork out of plant care.
Zurich, Switzerland (PRWEB UK) 21 May 2012
Koubachi today announces that its award winning Wi-Fi Plant Sensor, which takes the guesswork out of plant care, is now available across Europe. Winner of the 2012 red dot design award, the Koubachi plant sensor translates your plants needs directly to your iPhone.
The Wi-Fi Plant Sensor is placed in the soil of any pot plant to monitor the key vitality parameters of a plant: soil moisture, temperature and light intensity. Using a built-in Wi-Fi module, the data is sent to the Koubachi Cloud, where it is analyzed based on scientific care models developed in cooperation with leading biologists. The plant owner is then provided with detailed instructions via the Koubachi iPhone App or Web App, to show how and when to care for your beloved plants. One Koubachi Wi-Fi sensor can be used to monitor and set up alerts for all your household plants.
"The Koubachi Wi-Fi Plant Sensor is the first device ever that enables real-time monitoring of a plant's vitality," says Philipp Bolliger, CEO and inventor of Koubachi. He adds: "It's been very well received by the users and press since launch at CeBIT 2012 and we are happy to deliver the first pre-ordered units to our customers. With production fully lined up, the Koubachi Wi-Fi Plant Sensor is now available across Europe."
The Koubachi Wi-Fi Plant Sensor has been designed to seamlessly blend in with your plants' environment, whilst using cutting edge technology that enables a simpler, yet more powerful plant care experience.
When inserted in a plant's pot, the plant owner is provided with detailed care instructions regarding:
1) Watering: The Koubachi Wi-Fi Plant Sensor features a best-in-class, high-precision soil moisture sensor providing unmatched accuracy that ensures effective plant watering and prevents over-watering
2) Temperature: The temperature sensor monitors ambient surroundings ensuring that your plants are placed in ideal temperature environments as well as alerting you when it's too hot or cold for your plants.
3) Light intensity: The light intensity sensor ensures that you know whether your plants are positioned exactly in the right place to promote healthy growth and also alerts you if the plant needs other light requirements.
4) Fertilizing: Based on the individual plant care model for your plant species, Koubachi also provides you with timed fertilizer notifications.
5) Misting: Some plants only thrive if misted regularly – Koubachi knows whether your plant needs misting and will alert you whenever it is time to mist your plant.
The Koubachi apps – which can also be used in basic function without a sensor – are available for free, whilst the Wi-Fi Plant Sensor costs £99 from http://store.koubachi.com. The purchase of the sensor includes a lifelong free subscription to the Koubachi system, including regular updates of the Apps (new features) and the plant library (new plants). The red dot design awards praised Koubachi for its high design quality and inspiring design language. To learn more please visit http://www.koubachi.com
Editors Notes:
Press ready images can be found here: https://www.dropbox.com/gallery/21479396/1/koubachi?h=3f774a
About Koubachi
Koubachi revolutionizes the way objects and things in your household are communicating with you. Koubachi's mission is to identify the potential of Smart Objects and create new possibilities of use, new services, and a simpler yet more powerful user experience. In short, Koubachi wants to simplify your life!
Koubachi makes plant care as easy and fun as it should be. Since the launch of its free interactive plant care assistant in September 2009, available as iPhone App and Web App Koubachi is an innovative Wi-Fi Plant Sensor represents the newest addition to the Koubachi system, literally giving your plant a voice.
Koubachi AG is located in Zürich, Switzerland, and was founded in 2009 by alumni of the Swiss Federal Institute of Technology (ETH Zürich), the Technical University of Munich (TUM) and the University of St.Gallen (HSG). We are a spin-off of ETH Zürich and supported by the Swiss government's innovation promotion agency CTI, ETH Transfer and the National Center of Competence in Research (NCCR) MICS.