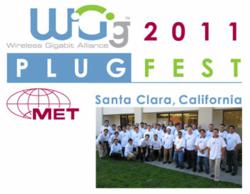 Santa Clara, CA (PRWEB) November 09, 2011
The Wireless Gigabit Alliance (WiGig) has successfully completed its historic PlugFest at MET Laboratories in Santa Clara, California. The three-day event in late October confirmed that Alliance member devices implement WiGig specifications correctly, and interoperate with WiGig devices from other Alliance member manufacturers.
During this first PlugFest, ten member companies utilized MET's advanced know-how and test facility, equipped with sophisticated anechoic chambers and test tools. Specialized test instrumentation was provided by Agilent Technologies.
The PlugFest follows the publication in April of WiGig's version 1.1 multi-Gigabit wireless specification. WiGig manufacturers are preparing their 60 GHz networking products for certification and market introduction in late 2012 or early 2013.
"We are honored to have hosted this inaugural WiGig PlugFest and to be a WiGig Alliance member," said MET President Rob Frier. "It is always a thrill to work with the world's leading manufacturers of semiconductors, personal computers, consumer electronics and handheld devices. We attribute the success of the event to the diligent preparation of fellow WiGig Alliance members, as well as our cutting-edge facilities and technically-savvy personnel."
ABOUT MET LABORATORIES: As the U.S.'s first OSHA-licensed Nationally Recognized Testing Laboratory, MET Laboratories is an internationally-recognized resource for regulatory certification of electrical products for the worldwide marketplace. Testing covers a wide range of regulatory, commercial and military standards. MET provides testing services required for specific certifications needed to establish product safety, electromagnetic compatibility, environmental hardiness, telecom, metering, fiber optic, wireless and RFID compliance. MET Laboratories is headquartered in Baltimore, Maryland, with office locations in Union City and Santa Clara, California; Austin, Texas; Cary, North Carolina, and wholly-owned international locations in Shenzhen, China; Taipei, Taiwan; and Seoul, Korea.
For more information about MET Laboratories, please visit http://www.METLabs.com.
###