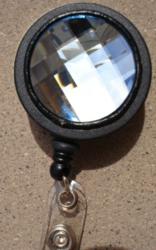 Chandler, AZ (PRWEB) September 18, 2012
Crystal ID badge reels are all the rave at WI Girl Designs! All crystal badge reels are featured this month. This includes the Aquamarine (blue), Ruby (red), Amber (yellow), and Crystal (clear) badge reels.
Retractable badge reels are used by all types of businesses, commonly to hold identification cards. Healthcare workers, government workers, event staff, teachers, and corporate workers need to wear a form of ID badge at their workplace. These make great gifts for men and women!
Kim Arendt, owner and designer of WI Girl Designs, has created fun badge reels for those who do not like to wear lanyards around their neck. The ID badge reels are chrome and black plastic with a slide-type belt clip on the back. This is a heavy duty badge reel. Each designer reel is 1 1/2 inches round and 1/2 inch thick. The wire cord is 30 inches in length. Comes with a clear plastic strap with snap to hold a badge.
Also seen on the website are badge reels with flowers, rainbows, and animal prints. These can be customized with colored rope.
WI Girl Designs website also features birthstone beaded lanyards. Two styles are available. Birthstone Swarovski beads with Silver spacers are the most popular. The second style, which looks more feminine, is the birthstone crystal with white pearl design.
Birthstone necklaces, eye glass holders, and bracelets are also featured on her website.
Kim offers customization. Team colors, corporate colors, and favorite colors are common requests. You can reach Kim by going to WI Girl Designs website at http://www.wigirldesigns.com.