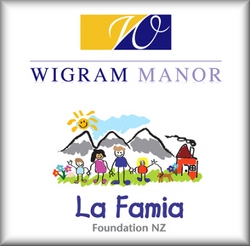 This magnificent two acre estate is appointed to accommodate social events, corporate functions, and South Pacific chapel weddings fit for royalty; with gourmet catering capacity from small gatherings to grand formal receptions
Christchurch, New Zealand (PRWEB) November 30, 2009
Wigram Manor, a Christchurch monument originally built in 1938 as the Royal New Zealand Air Force Officers Mess; and including the free standing historic Air Force Chapel, is now offering spacious gardens, luxurious conference and dining rooms, a grand ballroom; and introducing Jessie's Bar and Bistro, serving the latest in boutique licensed café and cookery, with the national award winning Wigram Brewery beers on tap.
"This magnificent two acre estate is appointed to accommodate social events, corporate functions, and South Pacific chapel weddings fit for royalty; with gourmet catering capacity from small gatherings to grand formal receptions", says Trustees Harmon and Carolyn Wilfred. The main edifice also provides a special honeymoon suite with the wedding package; separate bed and breakfast accommodation, and fully serviced executive office suites; including the availability of a multi-featured IP PABX business phone system and high speed broadband throughout the facility. "Rumour has it that the honeymoon suite was refurbished for Princess Diana and Prince Charles to accommodate their visit to Christchurch in April, 1983, and has subsequently been dubbed, the Princess Di Suite", says manager, Miriama Mokomoko. Friendly resident ghosts have also been reported by the Manor guests from time to time.
The La Famia Foundation NZ founded in 2005 to offer good old fashioned community based family support throughout the Canterbury region, established its new headquarters at Wigram Manor in July, 2009. With its principle aim of providing self sustaining family services, this charitable trust has created an innovative business driven model to supplement revenue by purchasing up to 50% of carefully chosen Kiwi owned family businesses as La Famia Partners. The partners market their businesses under the La Famia brand, increasing their market share through community conscious customers who agree that trading with a La Famia Partner is a wonderful way to get an affordable quality product while also funding Kiwi families in need. It's a competitive point of difference that is working.
The La Famia Function Centre at Wigram Manor is but the latest La Famia partner business added to the Foundation's family of businesses who contribute up to 50% of their profits to assist Kiwi families in need. Existing partners also include the Bayou/La Famia Kitchen restaurant in Sumner, the Prenzel specialty food and beverage company in Blenheim, and ITtelenet, Your Global Telco based in Christchurch. At La Famia… and now Wigram Manor… the family business is the business of family! Bookings are now being taken for the 2011 Sept-Oct Rugby World Cup.
###