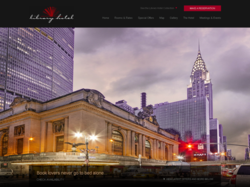 We were moved and inspired by the sheer beauty and visually expressive quality of WIHP's previous work.
New York, NY (PRWEB UK) 26 June 2012
HKHotels have recently changed their name to Library Hotel Collection, a brand repositioning move in anticipation of two new properties to open in the next three years: Aria Hotel in Budapest and Hotel X at Exhibition Place in Toronto. The boutique hotel group has aligned its corporate identity to reflect the change, rebranding all its online properties as well.
To convey their novel approach to hospitality, Library Hotel Collection have employed hotel marketing agency WIHP to redesign the websites for the group and its four existing hotels: Moroccan-themed Casablanca Hotel; the iconic Library Hotel at Madison and East 41st Street in New York, which inspired the new name of the group; romantic retreat Hotel Elysée; and the urban, sophisticated, Hotel Giraffe at Park Avenue South.
"Many factors went into deciding to partner with WIHP on the design, SEO and hosting of the new set of websites for the Library Hotel Collection," explained Adele Gutman, Vice President of Sales, Marketing & Revenue at Library Hotel Collection. "First, on an emotional level, we were moved and inspired by the sheer beauty and visually expressive quality of WIHP's previous work. However, we know we are not creating a work of art but a work of commerce, and after speaking to other hoteliers who have worked with WIHP, we could clearly see that they had a proven track record for helping their hotels achieve an exceptionally high percentage of direct sales on the brand websites."
All websites are built on WIHP's Convert, an industry-acclaimed content management and website building platform that features streamlined navigation; state-of-the-art, high definition, image galleries; and user centric design. Convert is the first hotel website builder to completely integrate the SynXis booking engine flawlessly within the website, thereby reducing booking time by 44% and creating a unique sales tool for independent hotels.
"We already have success with that now, but we are confident that WIHP will work with us to take that success to the next level. Like the Library Hotel Collection, we can see that WIHP shares our belief that putting the customer first is the best form of marketing. While we have just launched the English language websites, we are eagerly awaiting the launch of our multi lingual websites which will launch over the next month. We believe it will literally open our hotels to a new world of honored guests," added Gutman.
The immersive experience offered by the new Library Hotel Collection websites provides visitors with a closer-to-reality experience of the hotels, and a more clear overview of the amenities available in every room. In addition, all websites feature state-of-the-art interactive maps that allow access to all information of what is around the hotels and how to get there. The sites work on all supported media, including desktops and all portable devices (iPhone, iPad, smartphones), giving visitors more flexibility to book their rooms directly from the hotels, from any device.
About WIHP:
World Independent Hotel Promotion (WIHP) is a leading hotel marketing agency drawing on more than 12 years of experience and tracking. Having built over 4000 hotel websites and tracked the most efficient ones, WIHP now provides hotels from all markets with high-end hotel marketing campaigns designed to increase direct revenues. With their custom tracking system WIHP provide their customers with extensive information on ROI and results. To learn more, visit wihphotel.com, or follow WIHP on Twitter, @WIHPhotel; Facebook; or Google+. Convert website builder is available for hotels worldwide at http://www.wihphotel.com/convert.