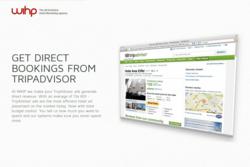 Now every hotel can advertise on TripAdvisor, without fear of month end calamity. WIHP clients who use Show Price gain an average of 13x ROI.
Paris, France (PRWEB) May 03, 2012
Hotel marketing agency WIHP (http://www.wihphotel.com) has released a first-in-the industry feature for hotels that want to advertise on TripAdvisor: complete budget control, which allows hotels to set a maximum monthly budget on their TripAdvisor ads, without spending more than planned. WIHP is one of the first hotel marketing agencies to open TripAdvisor's Show Price ads to independent hotels and small chains, and it is the first ever to offer them complete control over their ad-spend budgets.
Advertising on TripAdvisor is a unique and effective opportunity for independent hotels and small chains to tap into the power of guest reviews. With some 50 million visitors per month, TripAdvisor is the leading hotel review site in the world, and a de facto reference for travelers needing a place to stay. As a visibility and booking channel, the service is one of the most crucial in any hotel's marketing strategy.
When WIHP launched Show Price ads in August 2011, the service proved to be one of the most efficient advertising channels for generating direct bookings for independent hotels. The average ROI being 13X (often more), the system worked flawlessly for many hoteliers. However, while the system is perfect for some, leaving an open budget for TripAdvisor, to be paid at month's end, was less desirable, even too costly, for other independents.
To alleviate this point of pain, WIHP's technical team devised the first system allowing hotels to set a maximum budget for their TripAdvisor ad campaigns.
Even though WIHP's advertising consultants may suggest budget values to clients based on how much should be paid to secure direct bookings, any hotel can now set a maximum budget and know they will not over-spend.
WIHP's mission is to generate direct bookings for hotels using direct advertising solutions such as TripAdvisor Show Price advertising, while ensuring the best possible ROI and overall effectiveness for hoteliers.
About WIHP:
World Independent Hotel Promotion (WIHP) is a leading hotel marketing agency drawing on more than 12 years of experience and tracking. Having built over 4000 hotel websites and tracked the most efficient ones, WIHP now provides hotels from all markets with high-end hotel marketing campaigns designed to increase direct revenues. With their custom tracking system WIHP provide their customers with extensive information on ROI and results. To learn more, visit wihphotel.com.