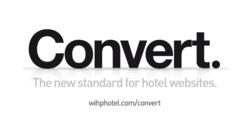 It has the smoothest booking process ever made for hotels.
Paris, France (PRWEB UK) 14 March 2012
Hotel marketing agency WIHP has just released Convert, the first hotel website building platform that integrates the SynXis booking engine, which reduces booking time for consumers by over 40%.
Since the 1990s when hotels started selling rooms via the Internet, hotel websites have been laid out utilizing the same confusing structure. Websites have attempted to simply install a booking engine on top of slow and unwieldy e-commerce portals.
At ITB last week in Berlin, WIHP released Convert, the first hotel website builder to completely integrate the SynXis booking engine flawlessly within the website, thereby reducing booking time by 44% and creating a unique sales tool for independent hotels.
The immersive experience offered by Convert gives independent hotels a state-of-the-art hotel website based on full-screen imagery and galleries otherwise only available to multi-million dollar websites. The sites work on all supported media, including desktops and all portable devices (iPhone, iPad, smartphones). Drawing from over a decade of experience, and having created more than 4000 hotel websites, WIHP offers these unique tools via a monthly contractual agreement.
"We wanted to give every hotel in the world the most advanced hotel website ever created. From all our experience, we have a unique view of what elements generate direct bookings, Convert was created as a booking machine for hotels. It has the smoothest booking process ever made for hotels," explained Vincent Ramelli, WIHP President.
Ramelli and his team spent a great deal of time working out how to make Convert extremely fast, and not just for the home page, but all images and galleries as well. Recent studies by Google and Microsoft indicated a direct relationship between site speed and conversion rates. As a result of adhering to these studies findings, Convert loads faster than any other hotel website on the market today.
Simplicity is evident throughout the site, large buttons, simple menus and very large photos make the sites easily navigable, fun to use and aesthetically beautiful. The effect is a minimalist design combined with lightning click-ability.
WIHP's own independent study indicates that travelers return to hotel sites as many as 4 times before proceeding with their booking. Vincent Ramelli noted during his presentation at ITB Berlin, "So many returning visitors indicate that the hotel sites are just not answering all their questions." He then proceeded to show a comprehensive integration of Google Maps into Convert where guests can see nearby restaurants, museums or get directions.
Convert is the ideal fusion of booking engine and website in one easy to use, quick, and informative package. Where guests used to spend 11 minutes on the booking engine and 14 minutes on the website before, on Convert guests can reduce that to much less than 14 minutes.
Hotels that integrate the booking engine within their websites are common, but a hotel site that delivers as fast as Convert, is where WIHP's hard work has paid off. The developers strived to make selecting a room on the site and the booking engine, essentially the same thing. The end result is remarkable.
Convert is available from WIHP as a subscription plan of 750 EUR a month and is purchased online at http://www.wihphotel.com/convert building the website is essentially done online with a support team available to answer questions and help hoteliers through the process.
About WIHP:
World Independent Hotel Promotion (WIHP) is a leading hotel marketing agency drawing on more than 12 years of experience and tracking. Having built over 4000 hotel websites and tracked the most efficient ones WIHP now provides hotels from all markets with high-end hotel marketing campaigns designed to increase direct revenues. With their custom tracking system WIHP provides their customers with extensive information on ROI and results.