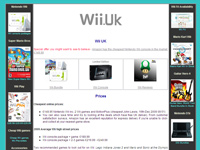 (PRWEB) December 18, 2009
Since launching a dedicated Wii site some two years ago Wii UK (part of the Game Stock group, established in 2006) has endeavoured to succeed amid stiff adversary from dozens of copy-cat sites offering Wii prices and Wii Fit in stock checking, to the avalanche of new Voucher Code directories providing more of the same for buyers to click to reveal offers.
Early in 2009 Wii UK piloted a new approach to shopping. A hybrid of the best of both for visitors. Shoppers can get the latest offers and discounts when they are still valid and are relevant to their buying experience. The focus is on quality, providing timely accurate information at the right time to the right audience. We don't expect our visitors to buy non-gaming items, so at Wii UK, the discounts shown are just for Nintendo Wii and video games related http://www.gamestock.co.uk/nintendo-wii-u-black.
The advantage Wii UK gives to buyers' is simple - when retailers have a sale, a discount offer, voucher code, or Wii UK recommended top deals to tell, it will be shown, otherwise none will be listed. It appears the Internet is becoming a overloaded with out of date deals, plenty of expired offers being cross-checked and making it extremely difficult for public to find out when a good Wii package deal is still available.
Wii.UK uses the latest computer technology, tracking prices and in stock checking virtually on a minute by minute basis because Nintendo are well known for going in and out of stock rapidly due to their demand. Last year and the year before Wii.UK provided "Wii Fit stock checking" email alerts to inform shoppers where had Wii Fit Plus with Wii Balance Boards in stock. When Wii launched in 2006, finding a Wii console was the same. However during this year's sales and in the build up to Christmas there is not as great a shortage of Nintendo Wii games and accessories as in past years.
A new Black Nintendo Wii Console (Limited Edition) is amongst one of the best selling game consoles in the top 10 at all good retailers. Prices start at just £149.95 on the site today, a considerable saving can be made by visiting Wii.UK. It's no secret the Internet is the cheaper way to shop, but too often shoppers go straight to their favourite retailer without comparing prices and Wii bundles first. The SRP of Nintendo Wii bundles with Sports Resort and MotionPlus is around £179.99, so the Wii console prices can be bought much cheaper at Wii.UK.
The other Wii deals visitors use the website for mainly include the ever popular Wii console bundle with Wii Fit Plus & Balance Board and top 10 Wii game chart featuring Nintendo Wii games coming soon (pre-order), their cheapest price and of course discounts relevant to those deals. During this year's build up to Christmas, Wii UK is already finding and listing not be missed SALES (1/2 price games, free games included in Wii bundles, F1 2009 Wii packages and more tips can be found by visiting the website…)
New for 2012 at GameStock: Wii U, price drop alerts, games forum, monthly newsletter, competitions and more. Click GameStock.co.uk
# # #