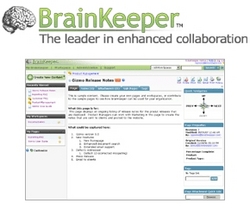 We approached Smartsheet.com with a vision to dramatically expand the collaborative capabilities for organizations
Fairfax, VA (PRWEB) March 13, 2008
BrainKeeper, a leading enterprise wiki provider, officially announces a partnership with Smartsheet.com, a leading provider of online task management solutions, to provide a more powerful and comprehensive corporate collaboration solution. "We approached Smartsheet.com with a vision to dramatically expand the collaborative capabilities for organizations," said BrainKeeper President, Chad Ganske. "Smartsheet is the only tool that truly matched that vision."
Smartsheet offers task management features that make it easy to get things done. With Smartsheet, you can easily create custom lists, assign due dates, and identify next steps. Quickly view recent changes made by team members and keep track of where things stand. Additional features including real-time alerts and e-mail based update requests that post directly to your Smartsheet. It's the perfect complement to the BrainKeeper Enterprise Wiki.
Explaining why BrainKeeper chose Smartsheet.com as their integration partner, Ganske says, "we knew a simple online spreadsheet would be too limited in addressing the collaborative issues that organizations struggle with. Smartsheet offers more value to our subscribers, who expect that we will provide them with the best features for their needs. We are living up to that promise." A further commitment that BrainKeeper has shown is to provide seamless integration points in their software so that existing features can be fully leveraged. For example, Smartsheets can be searched, placed anywhere in the content hierarchy, and be protected with the same permissions as other content.
Recognized, Established Solution
Leading market research companies Forrester and Gartner have recognized BrainKeeper as an established provider of collaboration software. In addition, a number of well regarded leaders in the industries of technology, education, consulting, media, financial management, health care and government are among the growing number of BrainKeeper subscribers.
Free to Try, Simple to Buy
A 30-day complete, no-obligation, free trial of the BrainKeeper Enterprise Wiki is available at [brainkeeper.com/free. BrainKeeper Professional Subscriptions start at just $35 per month for up to 10 user accounts. BrainKeeper is a hosted solution that can be setup and customized within minutes, with no involvement needed from an IT department.
About BrainKeeper
BrainKeeper is a leader in providing enhanced collaboration solutions to corporations. The BrainKeeper Enterprise Wiki is a complete collaboration management tool that gives everyone in a company the ability to easily contribute to a central knowledge base. BrainKeeper helps an organization foster innovation, clear communication, and ideas that can easily be delivered to the right people, right when they need it. Thousands of business professionals from many different industries have found value and success by implementing BrainKeeper into their teams, departments, and organizations. For more information about BrainKeeper, visit brainkeeper.com.
About Smartsheet.com
Smartsheet.com is online task management that gives people the fastest, easiest path to get things done. It's an easy way to keep track of tasks and documents, share information and maintain peace of mind. Founded in 2005, Smartsheet.com serves a variety of customers from start up to Fortune 500 companies, including AIA Heartland, The Gap, Brooks Apparel, Specialized Bicycle, Pierce County , Premier Bride and McFarland Cascade. For more information about Smartsheet.com, visit smartsheet.com.
# # #