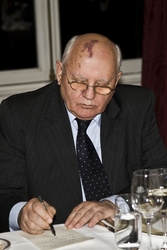 Wikia Green is the natural resource to realize Mr. Gorbachev's vision to have citizens of the world collaborate on creating new strategies and tactics to address climate change.
San Francisco, CA (PRWEB) December 17, 2009
Mikhail Gorbachev, the Founding President of Green Cross International (http://www.gci.ch/), today called on climate change activists, educators and people across the globe to make their voices heard on environmental issues by participating in Wikia Green (http://green.wikia.com/wiki/Wikia_Green), coinciding with the 15th United Nations Climate Change Conference (http://en.cop15.dk/) held in Copenhagen this week. By embracing new online communication channels, Mr. Gorbachev, the former President of the Soviet Union believes the global community can engage political leaders to accelerate climate action through activity in the Wikia Green community, and by sharing their opinions on the recently launched Climate Change Task Force (http://www.climatechangetaskforce.org).
Wikia Green is a growing online resource for citizens of the earth to learn about the environment and how to achieve a more sustainable world. With nearly 1,000 articles covering topics such as the Green Movement, Environmental Issues and Sustainable Living, everyone visiting Wikia Green can participate by editing, adding, sharing or reading the information created by the community. Mr. Gorbachev encourages people to join the forum to work together to achieve the goals needed to protect our planet.
Similarly the Climate Change Task Force (CCTF) was created by Green Cross International to consolidate the efforts of prestigious and respected global organizations, scientists, economists and experts to successfully save and protect the environment. By visiting the CCTF site, people can have direct communication with informed political leaders about environmental issues, concerns and new ideas.
"Wikia Green is the natural resource to realize Mr. Gorbachev's vision to have citizens of the world collaborate on creating new strategies and tactics to address climate change," said Jimmy Wales, Chairman and Co-Founder of Wikia. "Wikia Green will provide the means for building a central community where everyone can contribute to the world's wisdom about the environment, and together, devise healthier, sustainable approaches to a better world."
About Green Cross International
Green Cross International (GCI) is an international non-governmental organization striving to achieve specific goals at the intersection between the challenges of security, elimination of poverty and the environment. GCI addresses the environmental causes and consequences of wars and conflicts, and assists affected populations.
About the Climate Change Task Force
The Climate Change Task Forces (CCTF) is an independent, non-governmental panel comprised of leading international climate change thinkers, scientists as well as former and current statesmen and officials working to maximize the Copenhagen climate deal, "recalibrate" post-Copenhagen efforts in line with latest science and actively engage civil society in the search for appropriate and adequate solutions.
Under the leadership of Green Cross International Founding President Mikhail Gorbachev, the CCTF consolidates the efforts of organizations like the Nobel Peace Laureates Forum, the Club of Madrid, and the Club of Rome in bringing about urgent and radical climate action.
About Wikia
Wikia recently became one of the top 75 sites on the Internet according to Quantcast (http://www.quantcast.com/p-8bG6eLqkH6Avk), and was founded by Wikipedia founder Jimmy Wales and Angela Beesley, as the place where millions of passionate people come to discover, create and share a shocking abundance of information on thousands of topics. Wikia's community written sites range from video games, TV and movies to health and environmental sustainability. Wikia attracts more than nine million unique visitors in the U.S. per month to its 70,000 enthusiast communities and nearly three million pages of content.
Contact:
Carol Wentworth
Wikia, Inc.
(650) 799-8810
###