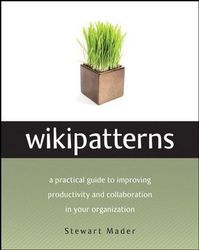 Wikipatterns is inspired by the already thriving online community at Wikipatterns.com
San Francisco, Calif. (PRWEB) January 28, 2008
Wiley Publishing is releasing Wikipatterns (Wiley Publishing; December 2007; $29.99), a how-to guide for growing wiki use. Susan Scrupski, noted blogger and Chief of Applied Research at BSG Alliance, said on the book's release, "I'm going to recommend this without even reading it! Should be an Enterprise 2.0 must-read top-shelfer."
Wikipedia, the wildly popular online encyclopedia, is the most well-known example of wiki. But wikis are also taking hold in organizations, because they streamline collaboration, help employees be more productive, and offer better security for sensitive information.
Businesses need to know how to introduce this new tool to employees or customers, and give them the best techniques for sharing and collaborating. Wikipatterns shows readers:

How an organization's wiki differs from Wikipedia
The best ways to get started
How wikis streamline and simplify day-to-day activity
How to encourage participation and make the wiki "stick"
Author and Atlassian Wiki Evangelist Stewart Mader provides readers with concrete, proven methods based on successful wikis in hundreds of organizations. The book is loaded with case studies from organizations big and small including: Sun Microsystems, Johns Hopkins University, LeapFrog, Red Ant, and the National Constitution Center.
"Wikipatterns is inspired by the already thriving online community at Wikipatterns.com," notes author Stewart Mader. "The website-itself a wiki-is a growing community dedicated to wiki use. The book includes the most wide-reaching ideas as it shows readers how to successfully grow a wiki."
About the Author:
Stewart Mader is Wiki Evangelist for Atlassian, makers of the award-winning and widely used Confluence wiki software. Stewart has worked with business, academic, and non-profit organizations to grow vibrant collaborative communities.
He publishes Blog on Wiki Patterns (http://www.ikiw.org), founded Wikipatterns.com, and is the author of two books: Wikipatterns, a practical guide to improving productivity and collaboration in your organization and Using Wiki in Education, an online book on wiki use in education and research.
About Wiley:
Founded in 1807, John Wiley & Sons, Inc. has been a valued source of information and understanding for 200 years, helping people around the world meet their needs and fulfill their aspirations. Since 1901, Wiley and its acquired companies have published the works of more than 350 Nobel laureates in all categories: Literature, Economics, Physiology or Medicine, Physics, Chemistry and Peace.
Our core businesses publish scientific, technical, medical and scholarly journals, encyclopedias, books, and online products and services; professional/trade books, subscription products, training materials, and online applications and websites; and educational materials for undergraduate and graduate students and lifelong learners. Wiley's global headquarters are located in Hoboken, New Jersey, with operations in the U.S., Europe, Asia, Canada, and Australia. The Company's Web site can be accessed at http://www.wiley.com. The Company is listed on the New York Stock Exchange under the symbols JWa and JWb.
Wikipatterns
Published by Wiley Publishing, Inc.
Publication date: January 14, 2008
$29.99; Paperback; 216 pages; ISBN: 978-0-470-22362-8
Contact: Eric Holmgren
415-782-3161
Stewart Mader
415-701-1110
###