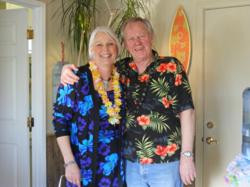 We are having so much fun meeting travelers daily. We are delighted to provide added touches that can make the difference to their overall traveling experience. We see some long term relationships beginning to build already... and that warms our hearts.
(PRWEB) May 24, 2011
Local businessman, Ernie Henken, grasps an opportunity with the expansion of the Bellingham International Airport and provides "special" off-site parking and personal customer service and care for Hawaii-bound flights.
In January of 2011, life-time resident and business person of Whatcom County, Ernie Henken; notes it is always about forward thinking or "visionary" thinking that makes or breaks success. These windows of opportunities might be mere flashes of "moments", but in having conversations with supportive friends, family and acquaintances; these have provided wise steps taken…
With the automobile and RV business decline over the past while, plus a piece of commercial property requiring activity to maintain its existence… Ernie Henken of Henken Auto Sales, and recently Top Value RV, had a conversation with his long-time friend Paul Kirby about the what/where and why of the recent downturn. A door swung open with mention of Alaska Air bringing daily flights direct to Honolulu from the Bellingham International Airport, and Paul said "That's it! You just turn this into off-site parking, as you know there is very limited Bellingham airport parking available when the new expansion takes place at the terminal." Giving this added thought, and further conversations, son-in-law Tim Willmorth came up with suggestion that the name might be Wiki Wiki… a fond memory of their arrivals to Hawaii as the buses waiting for them in Honolulu are called Wiki Wiki buses! (means hurry, hurry or quick, quick in Hawaiian) So… the idea of "Wiki Wiki Park n Shuttle" began to take shape with a wonderful theme attached. Aside from all the set-backs due to the variety of wet, white, windy and cold weather patterns of the Pacific Northwest, preparations got underway to get Wiki Wiki Park n Shuttle's full property cleared, fenced, gated and lit up and ready to open.
By late February Wiki Wiki Park n Shuttle opened its doors and began taking reservations for passengers heading to Hawaii, and also non-stop flights to Las Vegas. The main goal for Ferndale residents Ernie and wife Velma, is to provide "personal customer service, care and attention" out in our world today... For them, it means friendly service with a smile… hospitality of refreshment before and again after the flight. Hawaiian bound passengers have a full "theme" in store, setting the mood before arriving to the airport.
Within a month, the initial reviews and comments coming back from the first to travel with Wiki Wiki Park n Shuttle, have been more than a bit overwhelming and certainly indicate that the goal is being obtained.
Ernie and Velma have this to say "We are having so much fun meeting travelers daily. We are delighted to provide a few small added touches that can make the difference to their overall traveling experience. We see some long term relationships beginning to build already... and that warms our hearts"
Wiki Wiki Park n Shuttle LLC, established March 2011
4770 Pacific Hwy.
Bellingham, WA 98226
1.888.233.5523
wikiwikiparknshuttle.com
http://www.facebook.com/wikiwikiparknshuttle
info(at)wikiwikiparknshuttle.com
Owners; Ernie & Velma Henken
###