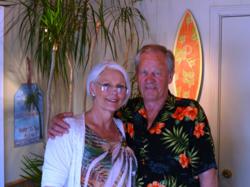 "We want to thank each and every customer who has graciously taken the time to comment via reviews on our service."
Bellingham, WA (PRWEB) April 24, 2012
Ernie and Velma Henken, owner/operators of Wiki Wiki Park n Shuttle/Airport Parking are pleased to announce the beginning of their second year serving the Bellingham International Airport. Growing along with the Bellingham International Airport s expansion is providing a positive experience for Wiki Wiki Park n Shuttle/Airport Parking. While this increasing market attracts travelers from the south of Bellingham, as well as the steady influx of the Canadian travelers to the north, Wiki Wiki Airport Parking provides a more personalized shuttle service to the Bellingham International Airport to lessen "travel stress" away from those more used to the hectic pace of the YVR and Sea-Tac terminals. "We want to thank each and every customer who has graciously taken the time to comment via reviews on our service. Our travelers' kindness has made every minute of this past year an absolute joy and Wiki Wiki attributes much of its success from the referrals of our travelers to others.
With the second phase of the Bellingham International Airport expansion, renovations are expected to commence shortly and will be in progress for a period of just under 2 years before completion. The value of shuttle service will continually increase in popularity as it offers simplified "door-to-door" service from a secured lot which is another "peace of mind" while on vacation or away on business. This $17 million airport expansion will include baggage carrousels and a larger ticketing and baggage check-in area. Additionally, Scotty Brown's Restaurant of Bellingham plans to open their new location at the Bellingham International Airport sometime late Spring of 2012.
Wiki Park n Shuttle, established March 2011
4770 Pacific Hwy.
Bellingham, WA 98226
1.888.233.5523
wikiwikiparknshuttle.com
http://www.facebook.com/wikiwikiparknshuttle.com
info(at)wikiwikiparknshuttle.com
Owners; Ernie & Velma Henken
About Wiki Wiki Park n Shuttle:
Once Alaska Airlines announced direct flights to Honolulu from the Bellingham International Airport in the beginning of 2011, Ernie and Velma Henken decided this was a good time to introduce a safe, gated and fenced off-site parking area with a tropical theme and cater to Hawaii bound and other travelers. From their own experience of traveling, the where to find parking... getting luggage from point A to point B, deal with traffic and uncertainties... or even running a little behind can make traveling somewhat stressful and hard work. Wiki Wiki Park n Shuttle's goal is to take this stress away... and offer a relaxed atmosphere with added fun... A free coffee bar is available to all travelers before and after their trip. For our Hawaii bound travelers, ladies receive a silk lei, kids receive a flowered bracelet and everyone is offered a family-friendly Hawaiian Mai Tai beverage as Ernie shares a few stories including a small legend. Once Hawaii-bound travelers board the Wiki Wiki Shuttle, they are serenaded with Hawaiian music right to the departure curb at the airport… often times it becomes a karaoke ride with a few added surprises!
Upon our traveler's return, the Wiki Wiki Shuttle is waiting at the curbside waiting to hear of the recent vacation highlights. Once back at the parking facility (approximately 3 miles driving distance to the frontage road of the Interstate 5), fresh coffee and tea is offered as well as hot chocolate to help warm up and wake up the overnight flyers. Everyone leaves with a bottle of water to help keep the hydration up while heading for home. Offering good old fashioned service and fun is what sets Wiki Wiki Park n Shuttle/Airport Parking apart.