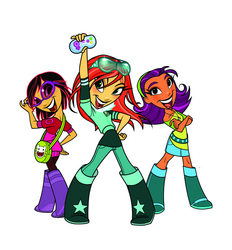 Fuel has a great body of characters and stories with limitless creative possibilities
Los Angeles (Vocus) February 4, 2010
W!LDBRAIN, the award-winning entertainment company and one of the world's foremost producers of animation, has entered into a partnership with digital agency Fuel Industries, branded entertainment experts and creators of popular interactive brands, including AllGirlArcade.com, to develop television, motion picture, direct-to-consumer platforms and consumer products utilizing the existing popularity of Fuel Industries' entertainment properties.
"Fuel has a great body of characters and stories with limitless creative possibilities," said Michael Polis, CEO, Wildbrain. "As a company, we will strategically integrate the proven Fuel Industries branded properties and characters into our studio's content and distribution businesses. Under this agreement, we are looking at a number of properties that have the potential to become sustainable franchises and growth drivers on a number of media platforms," he continued.
"Our development deal with W!LDBRAIN, combined with their successful portfolio of world-class animation and family entertainment, is a major step in our company's efforts to realize the full potential of our interactive properties," said Mike Burns, CEO of Fuel Industries. "As a digital agency expanding into an original content creator, we are confident that our expertise in building audiences for brands will continue to generate success for our own IP."
Current Fuel Entertainment properties in development and/or production at Wildbrain include:
AllGirlArcade.com – A rapidly-expanding tween girl gaming portal and virtual world (Spark City) based on Fuel's 'Clik Stars' property. The property is currently one of the web's fastest growing girl's portals, and includes a vibrant social network and a host of original web and mobile games based on the colorful characters.
Fairies and Dragons – A property for kids 6-10 that appeals to both girls and boys through the unique combination of four fairies and their elemental dragon friends into a magical storyline that has already captured hearts across Europe as the world's first Digital McDonald's Happy Meal™.
Sideway – A property for teenage boys that captures the art, passion and individuality of the underground graffiti culture that lives within today's urban youth. Sideway follows the adventures of Noz, a rebellious New York youth, and his mysterious journey through the wacked out realm of Sideway, a two-dimensional world that exists solely on the city's walls.
Tetsurai – Set in a steampunk-inspired alternate future of clanking iron and hissing steam, Tetsurai is an engrossing property for teen boys that combines television, an MMO, an arcade fighter and a role-playing game in a dark, sci-fi package.
About W!LDBRAIN:
Wildbrain is an award-winning entertainment company and one of the world's foremost producers of animation. The studio develops and produces television, motion pictures, short-form programming, commercial content and licensed merchandise. The studio has produced an exceptional slate of programming, including the critically acclaimed television series Yo Gabba Gabba! (Nick Jr.) and live touring show Yo Gabba Gabba!: There's A Party in My City; The Ricky Gervais Show (HBO) and the hit Disney series, Higglytown Heroes. Wildbrain and its creative team have won top industry awards. In film, the studio won an Annie for its computer graphics short film, Hubert's Brain. Wildbrain has received Clios, Addys, BDA Awards and Annies for their commercial work, reinvigorating classic brands for leading companies including The Coca-Cola Company, Honda, Kraft and Nike and has gained national attention for their animation work on behalf of Esurance, Ubisoft and Virgin America. Some upcoming television and short-form projects include Bubble Guppies, an animated series for Nick Jr., The Hard Times of RJ Berger, an animated series for MTV and Team Smithereen, the short-form stunt puppet show from Dan Clark. Wildbrain's sister company, Kidrobot, creates limited edition toys, clothing, artwork and books, with stores in New York City, Los Angeles, San Francisco and Miami. Wildbrain is based in Los Angeles, CA.
About Fuel Industries
Fuel Industries is a multiple award-winning interactive studio that lives at the intersection of marketing and entertainment. With 100 employees and presence in Canada, the US, and the UK, Fuel has built audiences by creating entertaining online experiences both for major international brands and its own licensed entertainment properties. Fuel's diverse holdings include interests in game development, video production, sound design, social media, and mobile marketing. Passionate about redefining the interactive agency and inventing the future of online content, Fuel's clients and joint venture partners include Electronic Arts, Paramount, Fox, Microsoft, Intel, MTV, Vans and HBO. For additional information, visit http://www.fuelindustries.com.
For more information, please contact:
Nick Iannitti
Fuel Industries
613-818-3560
Kelly Kimball
W!LDBRAIN
310-271-1400
###