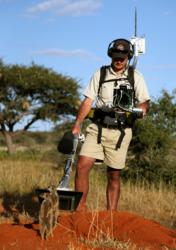 I just can't stop watching the meerkat cam. I am now so addicted that I am sleeping during the day [Virginia, United States] and staying awake all through our night so that I can watch the Gosa gang go about their daily foraging."
~ Karen Gilliam, VA
(PRWEB) May 08, 2012
People across the globe can now watch the daily lives of these cute little creatures, from meerkat eye level, LIVE, and unedited.
Within a short period of time the broadcast has already been viewed close to 100,000 times by people all around the world and many viewers have become completely addicted to this natural soap-opera:
"I just can't stop watching the meerkat cam. I am now so addicted that I am sleeping during the day [Virginia, United States] and staying awake all through our night so that I can watch the Gosa gang go about their daily foraging." ~ Karen Gilliam, Portsmouth, Virginia, United States.
Not only can people get to know the individual meerkats' names and characters, they can also chat with other viewers all around the world. WildEarth keeps people constantly updated about the meerkat family dynamics on Facebook (http://www.facebook.com/Gosa.meerkat.gang).
100% LIVE from dawn 'til dusk, this broadcast lets the meerkats tell their own story, at their own pace, and lets everyone share in their adventures as they happen in real-time. Many viewers have nervously watched the Gosa Gang mobbing and bravely fighting off a huge cobra, while it was happening! They've witnessed various heated territorial disputes with the competing Jaco's Dune Gang, and then have fretted about whether at the end of the day the Gang would have to fight again for a place to sleep that night. And they've laughed together at the funny antics of some of the younger meerkats.
A team of five intrepid young wildlife filmmakers is based on the magnificent Tswalu Kalahari game reserve (http://www.tswalu.com) and they venture out from dusk to dawn each day to follow the Gosa gang, led by alpha-female Cleo and her mate Gandalf. The unique 3D camera rig is not only a one-of-a-kind, designed and built by WildEarth specifically for this project, but weighing in at 15 kilograms (33 pounds) requires real strength and endurance from these young men to carry it around while chasing after meerkats under the baking sun.
"We are super excited about this groundbreaking project and very proud to be partnered with Tswalu. Not only are we broadcasting our wild meerkats to the whole world, we are also producing a 3D television series in the tradition of the ever-popular Meerkat Manor." ~ Graham Wallington, CEO, WildEarth.
Meerkats are fascinating creatures and universally loved. People from all over the world have for years been coming to Tswalu for a chance to sit and walk with these habituated little fellas. And now people are even checking into Tswalu on their phones to go foraging with meerkats in the Kalahari while commuting into New York on a train or while waiting in line at the checkout!
About WildEarth:
WildEarth is a LIVE wildlife broadcaster. We help producers all over the world to distribute, archive and monetize their LIVE wildlife streams on the Internet. Additionally, WildEarth operates a 24/7 3D High Definition TV channel, which is available on Freebox in France and Tricom in the Dominican Republic, and soon via other pay-tv operators around the world. The WildEarth 3Dsafari and 3Ddive series can also be viewed on Netflix, LGsmart, CCTV (China) and several other channels and platforms around the world.
WildEarth pioneered LIVE safari broadcasting from Djuma Game Reserve, South Africa, in 2006 and in addition to this distributes streams on behalf of the Hancock Wildlife Foundation, Operation Migration, PixController, the National Aviary and many more premium producers of LIVE wildlife content. WildEarth has broadcast the first LIVE broadcast of the birth of a wild black bear, LIVE streaming from an ultra-light aircraft with migrating whooping cranes across America, and many other exciting experiences in nature.
In addition to streaming from their own website (http://www.wildearth.tv) WildEarth has several partnerships with other LIVE broadcast platforms, like Ustream.tv, Justin.tv, Livestream.com, DailyMotion.com and YouTube Live, through which we 're-distribute' our producers streams. This allows us to develop much larger audiences, much faster, for our producers and thereby increase the potential monetization of these streams.
Graham Wallington, CEO at WildEarth, has this to say: "Broadcasting wildlife LIVE allows WildEarth, and our premium producers, the opportunity to show people all around the world the truth about nature. Our mission is to give people immersive experiences in nature. To make wildlife a part of our viewers daily lives."
A key aspect of the WildEarth approach to broadcasting is the involvement of the viewers. There are teams of volunteers that control the various waterhole cameras 24 hours per day. These volunteers, known as 'zoomies', live and work all around the world, but they schedule 2 hour 'zooming' sessions when they log directly onto one of these cameras in the African wilderness, and via satellite connections they pan, tilt and zoom in search of whatever animals may be coming down to drink. When an animal arrives, these zoomies will then Tweet on the WildEarth Twitter account (twitter.com/WildEarth) so everyone knows to come and have a look.
All streams have associated chat rooms, in which volunteer moderators are available to answer questions about the cams and animals that you may see, while also ensuring that the conversation remains suitable for all ages and sensibilities. This community focus has spawned a very active Facebook following that helps to keep everybody updated on the comings and goings at all the cams, nests, waterholes and reserves that WildEarth provides a window into. Many of the more regularly seen animals have their own Facebook pages that are updated by their fans.