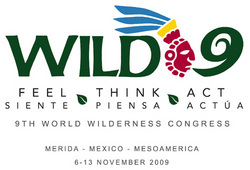 We are proud that ARKive -- which provides current and future generations such a vital record of our earth's species, particularly those that are disappearing -- is sponsoring WiLD SPEAK and that Wildscreen has given us access to such high-caliber films and filmmakers
Boulder, CO (PRWEB) October 13, 2009
Wildscreen announced today that its flagship ARKive initiative will sponsor WiLD SPEAK, the conservation communications symposium convening at WILD9, the 9th World Wilderness Congress.
WiLD SPEAK, organized by the International League of Conservation Photographers (iLCP), provides a forum for writers, photographers, and filmmakers to discuss environmental issues and themes, share strategies and technologies, and explore how their work can raise awareness and realize conservation objectives.
ARKive is one of several initiatives of the nonprofit Wildscreen, which has earned a long standing reputation for being at the heart of the international wildlife media industry. ARKive gathers together the very best footage and images of species at most threat of extinction into one centralized digital library, creating a unique audio-visual record of life on Earth.
Wildscreen, the organization behind ARKive, will bring to Merida two prestigious conservation filmmakers to conduct master classes, and a collection of films from the 25-year-old renowned Wildscreen film festival, which after touring Mexican cities, will culminate with screenings and a grand finale in Merida at WILD9.
"WildSpeak is a vital platform for ARKive," said Wildscreen Chief Executive Harriet Nimmo. "Both initiatives leverage the impact of media in promoting an appreciation of the natural world. Imagery enables us to know what a plant or animal looks like. With knowing comes caring, and, with caring, conservation and smarter choices," she said.
In recent years Wildscreen films and filmmakers have traveled to emerging markets such as India, Sri Lanka and China. Following the success of these traveling programs to offer valuable training and master classes to build capacity for the local film industry, Wildscreen is bringing two prestigious wildlife filmmakers to Mexico for WiLD SPEAK.
Paul Appleby, BAFTA-winning filmmaker, 28-year veteran of the BBC Natural History Unit and key contributor to the BBC Good Shooting Guide, will conduct a Master Class "Saving Planet Earth - How can film-making help?" Paul's most recent BBC production Saving Planet Earth reached over 20 million people and raised £2m to launch the BBC Wildlife Fund.
While Paul Appleby develops and delivers programs for large global audiences across many different platforms, award-winning Cynthia Moses specializes in filmmaking at the local level for grassroots outreach and education on health and conservation issues. Executive Director and President of the International Conservation and Education Fund, Cynthia will conduct a Master Class "The critical role that local media production and dissemination can play in conservation." As the technical and financial barriers to filmmaking have fallen, Cynthia increasingly focuses her efforts on training and working with local journalists and filmmakers, such as her current project in the Republic of Congo.
ARKive Director Richard Edwards will also conduct a Master Class Trends in wildlife film making using clips from Wildscreen's latest international award-winning films to illustrate different ways of telling stories across budgets and technologies.
In addition, a collection of Wildscreen's international documentary films about nature and conservation will be screened in Merida during WILD9.
"We are proud that ARKive -- which provides current and future generations such a vital record of our earth's species, particularly those that are disappearing -- is sponsoring WiLD SPEAK and that Wildscreen has given us access to such high-caliber films and filmmakers," said Cristina Mittermeier, iLCP executive director. WiLD SPEAK will also host the largest gathering of conservation photographers ever, exhibits and presentations by luminary nature photographers, and sessions for writers.
Register Here for WiLD SPEAK and WILD9!
Images are available for journalistic use exclusively as related to the news of this release. Please send requests to media contacts below.
WILD9 is a partnership between The WILD Foundation and Unidos para la Conservación and relies on the support and participation of many partner organizations.
ARKive (http://www.arkive.org) Since its launch in 2003, ARKive has gathered more than 40,000 videos, photographs and fact-files of Earth's species. This rapidly growing collection is available to the public without charge. More than 1,500 of the world's leading filmmakers and photographers have contributed the very best of nature and wildlife imagery to ARKive's digital vault.
iLCP (http://www.ilcp.com) Our mission is to further environmental and cultural conservation through ethical photography. The iLCP is a project-driven organization, with a vision to translate conservation science into compelling visual messages targeted to specific audiences. iLCP works with leading scientists, policy makers, government leaders and conservation groups to produce the highest-quality documentary images of both the beauty and wonder of the natural world and the challenges facing it. From poaching to global warming, from habitat loss to cultural erosion, from sustainability to biological corridors, the work of conservation photographers covers the range of threats to biodiversity and is a critical component in the conservation toolbox.
The WILD Foundation (http://www.wild.org) Founded in 1974, WILD is the only international organization dedicated entirely and explicitly to wilderness protection around the world. WILD works to protect the planet's last wild places and the wildlife and people who depend upon them, because wilderness areas provide essential social, spiritual, biological and economic benefits. We believe that intact wilderness areas are an essential core element of a healthy modern society.
Unidos para la Conservación (http://www.undiosparalaconservacion.org) Founded in 1992, Unidos is a nonprofit Mexican conservation organization that has actively promoted the concept of wilderness conservation in Mexico. Its working strategy combines the establishment of alliances with government, non-profit and corporate partners with the promotion of a conservation culture through publications and films in a search of conservation solutions through specific action.
Media Contacts:
Susan Bruce (Boulder, CO) - susan(at)wild9.org - 1 404 593 6391
Mikael Castro (Arlington, VA) - mikael(at)ilcp.com - 1 301 538 2358
Amy Nicholas (Bristol, UK) - amy.nicholas(at)wildscreen.org.uk - 44 (0) 117 3285952
Elena Torres (México DF, México) - elena(at)wild9.org - (52) 55 56159650
###