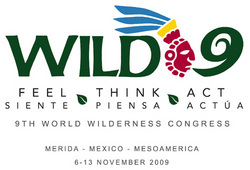 Boulder, CO (PRWEB) April 16, 2009
WILD9 is the next in a series of historic programs by The WILD Foundation to protect our planet's wild-places and the people and animals that depend on them. The World Wilderness Congress (WWC), launched by The WILD Foundation in 1977, is the longest running public environmental forum in the world. Having convened 8 times on 5 continents, the World Wilderness Congress has achieved a remarkable list of practical conservation results, a few examples of which include:

First concept of a "World Conservation Bank," leading directly to the creation of the World Bank's Global Environmental Facility (GEF), which has since provided $12 billion for biodiversity and sustainability;
Prompting the first private sector wilderness area in Africa , and first wilderness designation in Latin America (northern Mexico);
The first global inventory of wilderness and wild rivers;
Wilderness included as a distinct classification of international protected areas under the International Union for the Conservation of Nature (IUCN) framework; and,
Establishing the International League Conservation Photographers.
In 2009, for the first time ever, the WWC will convene in Latin America from 6-13 November, in the city of Merida, Yucatan, in the heart of the Mayan world. Many of the world's leading conservation experts, politicians, academics, corporations, artists, native peoples, students and many others will gather in Merida, Mexico to debate and act upon the most urgent environmental issues of our time. WILD9 is also open to the public.
"Hosting WILD9 in Mexico is significant because of the many new and evolving initiatives in Mexico and Latin America to protect wild-nature," comments Vance Martin, President of The WILD Foundation. "WILD9 is also the first bilingual World Wilderness Congress, which will broaden its reach and further our goals as an international organization."
With Mexico's President Felipe Calderón as the Honorary Host of WILD9, the schedule is already filled with leading names in conservation today. Wilderness and Climate Change is a central theme - driving the message that protecting wild nature eliminates at least 1/4 of the carbon threat. Other topics such as Freshwater and Underground Wilderness, Climate Change and Biodiversity, Fire in Nature, Transboundary Conservation and Connectivity, Marine and Oceanic Wilderness, and the Role of Human Communities in Nature will guide the trainings, plenary sessions, local excursions, working and poster sessions, cultural events and celebrations. In one of many associated sessions, the world's best conservation photographers will participate in the first RAVE (Rapid Assessment Visual Expedition) of Mexico's unique Yucatan Peninsula.
Registration is now open! Until 1 June, delegates will receive discounted "early bird" registration of $525 USD for a full 8 days of all WILD9 plenary sessions, workshops, technical symposia, cultural events, exhibitions and more. Other discounts are available for delegates from developing countries and students. WILD9 is also accepting applications for the WILD9 Scholarship Fund, which will award partial scholarships for selected delegates.
WILD9 is a collaborative program of The WILD Foundation and Unidos para la Conservación.
About The WILD Foundation: Founded in 1974, WILD is the only international organization dedicated entirely and explicitly to wilderness protection around the world. WILD works to protect the planet's last wild places and the wildlife and people who depend upon them, because wilderness areas provide essential social, spiritual, biological and economic benefits. We believe that intact wilderness areas are an essential core element of a healthy modern society
About Unidos para la Conservación: Founded in 1992, Unidos is a nonprofit Mexican conservation organization that has actively promoted the concept of wilderness conservation in Mexico. Its working strategy combines the establishment of alliances with government, non-profit and corporate partners with the promotion of a conservation culture through publications and films in a search of conservation solutions through specific action.
###