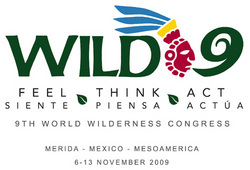 Hosting Dr. Goodall in Merida is a huge honor for The WILD Foundation and Unidos para la Conservacion, the co-hosting organizations of WILD9
Boulder, CO (PRWEB) August 6, 2009
World-renowned primatologist and conservationist Dr. Jane Goodall, DBE, founder of the Jane Goodall Institute and UN Messenger of Peace, will make a long-awaited public appearance in Mexico at WILD9, the 9th World Wilderness Congress, in Mérida, Yucatán, 6-13 November 2009. Dr. Goodall will deliver a keynote address on 6 November, the opening day of WILD9. On Sunday morning, 8 November, she will also personally lead a special workshop on Jane Goodall's Roots & Shoots, the Jane Goodall Institute's global environmental and humanitarian youth program, for all WILD9 delegates who wish to attend.
"Hosting Dr. Goodall in Merida is a huge honor for The WILD Foundation and Unidos para la Conservacion, the co-hosting organizations of WILD9," comments Jaime Rojo Executive Director for WILD9. "Dr. Goodall's presentation and workshop add a hands-on perspective to our already rich conservation agenda."
WILD9, the 9thWorld Wilderness Congress
WILD9 is a unique event in Latin America, a once-in-a -lifetime opportunity to get up close with the reality of nature conservation. After 30 years of history, the World Wilderness Congress (WWC) is the longest-running public environmental forum. WILD9 will host Dr. Goodall and some of the world's conservation leaders from science, politics, business, indigenous communities and the arts, including confirmed presentations from Russell Mittermeier, President of Conservation International, the Indian economist Pavan Sukhdev and Stephan Harding, an expert on Gaia theory, among others. For seven full days in Mexico's Yucatan Peninsula delegates will participate in activities including plenary sessions, workshops, local excursions, working and poster sessions, cultural events and celebrations - every single day of the week! WILD9 will also host the largest gathering of nature photographers in Latin America, ever, with photography keynotes each day, premier photo galleries, communications seminars and the largest multi-media presentation to date at any WWC. WILD9 is a collaborative program of The WILD Foundation and Unidos para la Conservación.
About Dr. Jane Goodall
In July 1960, a 26-year-old Jane Goodall began her landmark study of chimpanzee behavior in what is now Tanzania under the mentorship of famed anthropologist and paleontologist Dr. Louis Leakey. Her work at Gombe Stream would become the foundation of future primatological research and redefine the relationship between humans and animals. In 1977, Dr. Goodall established the Jane Goodall Institute (JGI), which continues the Gombe research and is a global leader in the effort to protect chimpanzees and their habitats. Dr. Goodall's scores of honors include the Medal of Tanzania, the National Geographic Society's Hubbard Medal, Japan's prestigious Kyoto Prize, Spain's Prince of Asturias Award for Technical and Scientific Research, the Benjamin Franklin Medal in Life Science, and the Gandhi/King Award for Nonviolence, among others. (http://www.janegoodall.org)
Jane Goodall's Roots & Shoots at WILD9
Jane Goodall's Roots & Shoots is the Jane Goodall Institute's global environmental and humanitarian youth program that involves almost 150,000 young people in 110 countries. Through Roots & Shoots, young people from pre-school through college work together to identify issues in their communities and take action through service projects, youth-led campaigns and an interactive website. The Roots & Shoots Workshop at WILD9 - scheduled for the morning of Sunday, Nov 8th - will demonstrate this program's effective model for involving young people in efforts to save our planet. It is undoubtedly an unparalleled opportunity to get an up-close view into Dr. Goodall's work and the role Roots & Shoots plays around the world. (http://www.rootsandshoots.org)
WILD9 Registration
Early Registration for WILD9 is extended until 31 July and the online registration system is open. Delegates from Mexico and other countries of Latin America receive a special registration discount! You can register using credit card, purchase order, check or wire transfer. Don't delay - Register today!
Media Representatives and Interviews at WILD9
To register for WILD 9 and to be eligible to interview Dr. Goodall and the other featured speakers and international delegates, please contact Silvia Casellas, WILD9's European Press Coordinator, at silvia(at)wild9(dot)org to arrange details according to schedule.
(Please note: Any interview requests for Dr. Goodall will have to be vetted and approved by Claire Jones and Susana Name at JGI-US.)
# # #