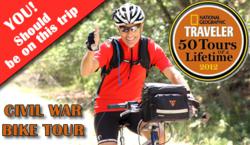 We are thrilled to be selected by National Geographic and strive to create dynamic outdoor experiences that spark body, mind and spirit. – Eric Martin, Owner & President, Wilderness Voyageurs.
Ohiopyle, PA (PRWEB) April 19, 2012
Wilderness Voyageurs is pleased to announce their celebrated Civil War bicycle tour was selected for National Geographic Traveler's prestigious "50 Tours of a Lifetime".
On this 150-anniversary of the Civil War, history-hungry cyclists and Civil War buffs alike will delight in pedaling from Leesburg, Va. to Gettysburg, Pa. over nine history-rich days, by way of the stunning Shenandoah Valley and breathtaking Blue Ridge mountains.
On this rousing route, cyclists visit notable war landmarks, tour battlefields with licensed battlefield guides and slumber in deluxe inns, such as The Antrim 1844 Inn, in Taneytown, Md., which General George Meade used as headquarters prior to the Battle of Gettysburg. As National Geographic Traveler notes, "Visiting Civil War battlefields needn't involve musty coach buses and dry accounts only a re-enactor could appreciate." Wilderness Voyageurs also offers a four-day Civil War bike tour from Gettysburg, Pennsylvania, to Harpers Ferry, West Virginia and variety of bike tours across the Mid-Atlantic and in Colorado.
With nearly 50 years of guiding experience, Wilderness Voyageurs' seasoned professionalism is just one of the reasons the company is both the oldest rafting company in the northeast, and a top-ranked bicycling tour leader and multi-sport outfitter. For more information, visit Wilderness Voyageurs.