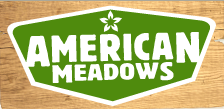 Peterborough, NH (PRWEB) February 02, 2012
Digital marketing agency @Website Publicity announced today the signing of new client American Meadows, the online retailer of wildflower seeds, perennial plants, flower bulbs and vegetable seeds for home gardeners. In addition to selling a wide range of seed, bulb and plant products sourced from the most respected sources around the world, the company has also been a leader in promoting natural landscaping education and products, such as using wildflowers as an economical and eco-friendly alternative to a lawn.
Co-owner Mike Lizotte explained there is no "average" buyer of his company's products. "Our customers range from some of the most experienced horticulturists in the country to those who simply want to add a little extra color to their life, and everyone in between," he said. "Our goal has been to be more than just a great shopping experience for home gardeners, so we've designed our website to also be a place where people can connect with experts as well as participate in a friendly and helpful gardening community."
A successful catalog and online marketer for years, the company is now focused entirely on its visually arresting website and is expanding its marketing strategy to rely more heavily on Search, Social Media and Mobile marketing. Co-owner Ethan Platt explained that having a robust yet easy to use retail site with a wide variety of products and extensive resource information is critical for their audiences, which also include corporate buyers seeking unique promotional items such as American Meadows custom seed packets. However, he added, "It is also critical that our site is readily 'findable' however people may be accessing the Internet, by desktop, tablet or phone, and through whatever sites they spend most of their time on, be it Google or Facebook. That's why we've partnered with @Website Publicity."
For more information about American Meadows, visit the company's website: http://www.AmericanMeadows.com.
For more information on @Website Publicity, call 800-450-2818, ext. 203, or visit http://www.WebsitePublicity.com.
###