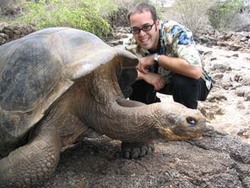 our upscale operation is dedicated to providing travelers with a truly high-end, customized group travel experience, almost anywhere in South America
San Diego, CA (PRWEB) September 19, 2008
San Diego-based Wildlife Vacations, Inc. is now offering a group travel division for incentive travel planners, group tour coordinators, congresses, conventions and meeting planners. The operator offers to these professionals the option to customize itineraries and special activities (with personal expert destination assistance by the company's staff) a high-end group experience in South America.
Wildlife Vacations, Inc. will focus on the group's particular requirements. The upscale operator is backed by over 47 years (and three generations) of combined experience in South America travel and offers destinations such as the Galapagos Islands, Ecuador, Ecuador's mainland; Machu Picchu, Cuzco, Arequipa, Nazca and Lima, Peru; a selection of adventure jungle lodge tours and adventure river cruises in the Amazon; Santiago, the Lake District, Patagonia and Easter Island, Chile; highlights of Argentina, as well as well as Iguassu Falls, the Pantanal and Rio (with the annual Brazilian Carnival), Brazil! Groups can have private churrasco-style BBQs (Brazilian BBQ), while enjoying the magnificent beaches of Ipanema, Leblon and Barra, in Rio.
Visiting these wonderful countries, regions, cities and locations of South America bring terrific travel experiences to all guests and kudos and satisfaction to the travel planners involved; especially when the trip has been customized and planned by true industry professionals. Incentive travel planners, group tour coordinators and meeting planners now have a terrific new choice in vendors, when planning their next South American event.
Wildlife Vacations, Inc. has multiple resources which can be utilized, including the popular website (http://galapagos-inc.com), which features options for Ecuador and the Galapagos Islands, such as chartering luxury motor or sailing yachts or mid-size ships in the Galapagos Islands. (http://wildlife-vacations.com) is a great tool for other South American travel destinations.
According to Jonathan R. Pinto, President & CEO of Wildlife Vacations, Inc., "our upscale operation is dedicated to providing travelers with a truly high-end, customized group travel experience, almost anywhere in South America".
"This high grade and more sophisticated type of service has only been possible for us to provide within the last 5 years or so, due to recent developments in tourism infrastructure in South America," Pinto added.
"Group travel coordinating has so many important aspects that it is essential to have the right team in place. The taste, overall variety and quality and of the local food, the presentation of the dishes and the quality of the linens in the hotels, jungle lodges or vessels utilized, are just a few of the many considerations that are important to every group member. Groups can range from 10 participants to literally hundreds," Pinto explains.
South America group travel (http://galapagos-inc.com/) programs are customized on an individual group basis. Wildlife Vacations can offer several different alternatives while considering the specific requirements of each group. This is done by scheduling several strategic meetings either by phone, in our conference center or in the group promoter's place of business.
For more information about customized South American group travel and options for mainland Ecuador and Galapagos Islands programs, please visit GalapagosLegend.com (http://galapagoslegend.com/).
WILDLIFE VACATIONS, INC.
Corporate Office
16870 West Bernardo Drive
Suite #400
San Diego, California 92127
Local Tel. (858) 385-1433
USA Toll-Free (877) 385-1433
Fax (858) 385-1484
###