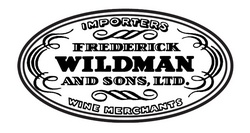 A 'focused approach' is the theme here
NEW YORK (PRWEB) July 24, 2008
"The growth and successes over the past decades have enabled us to develop momentum for change and increased growth," exclaimed Richard Cacciato, Wildman's President and CEO. "The time has come for us to take our business to a higher level and this means an increase of 50% in staffing for the next year throughout the United States and headquarters—that's quite an investment!," continued Cacciato.
The Frederick Wildman and Sons' portfolio houses over 50 brands from around the world including wines from the top six import categories: Italy, Australia, France, Argentina, Chile and Spain. The portfolio will now be divided into two divisions: National brands—wines which have volumetric potential and broad market appeal—and Fine Wine, a division focusing more on boutique-oriented properties from the above-mentioned countries as well as Portugal, South Africa, Austria and Germany.
The National Brands division is now operating with Sales Directors based in four strategically located markets—East, Midwest, South and West/Southwest. A group of regional managers has been added to each Divisional Sales Director's territory in order to cover the entire 50 States and its vast network of distributors. The brands represented in the National Brands division are: Folonari, Trapiche, Jindalee, Melini and Santi. Additionally, a National Sales and Marketing Manager will be hired by the end of the year to oversee the overall activities of this group.
The Fine Wine Division presently disposes of two Divisional Managers—an eastern and a western divisional director. Each will supervise a group of regional managers covering the entire country and will also report to a National Sales and Marketing Manager to be hired in the very near future. Within this category, a Director of Education will also soon be added to the sales team and will carry out duties of informing and training the trade on the core activities of Wildman's Fine Wine and National Brands. Serving both categories, the national accounts division now has two managers handling both coasts with a director envisioned for early '09 to oversee national activities.
"A 'focused approach' is the theme here," says Richie, "and by providing more pinpointed attention to individual brands—volume or fine wine—we will be able to target, not only our prime customers--our wholesalers--with more quality and contemplated management, but also offer a more approachable and astute sales environment."
Dedication and growth continue to be very prevalent within Wildman's wholesale divisions. "Our Metro New York unit created a business model for our expansion into our branches in upstate NY and NJ in 2006", commented Rocco Lombardo, COO Wholesale Division, "and both businesses now have developed into profit centers for Wildman" continued Lombardo. "We went from five NY sales representatives in 1994 to our present tri-market sales force of 45—complete proof and validation of our overall cause."
The 'buck' is not stopping there for Wildman, and more additions and changes to further serve its expansive portofolio are also in effect within the marketing team at New York headquarters. Moving forward in a focused direction will be the key to continued success for Frederick Wildman and Sons. The company is positioned strategically to meet the forefront of change and immediate challenges of the future.
ABOUT FREDERICK WILDMAN AND SONS
"Importers of fine wines and spirits since 1934, Frederick Wildman and Sons, Ltd., is committed to excellence, and is a major force in the world of wine in the United States. The familiar Wildman oval found on every bottle sold is recognized around the world as a symbol of quality assurance. The company has become what Frederick Wildman's president and CEO Richard Cacciato calls "the biggest little wine company in America."