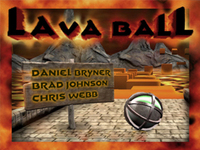 This event was amazingly successful
San Francisco, CA (PRWEB) April 13, 2009
Wild Pockets, in conjunction with Crispy Gamer and Microsoft, announced the winners of the Bay Area Game Jam held in Mountain View, California. Wild Pockets is currently in open beta, and gives indie and casual game developers a powerful platform to create Web-based games for free. Using Wild Pockets browser-based tools, developers can create elaborate games, interactive training, and 3D advertising, which can then be posted easily on just about any Web site by using an embed tag similar to YouTube videos.
Over 75 developers converged on the Microsoft Campus over the April 4th weekend to compete against each other to see which team could create the best 3D game in just 24 hours. There were 21 free online game entries submitted by teams ranging in size from 1 to 6 members.
The winning games and their teams are:
First Place - Lava Ball by Daniel Bryner, Bradley Johnson and Chris Webb.
Play Game Jam First Place Winner: Lava Ball
Second Place - Save The Boy by Aaron lo, Soo Jeong Bae, Heegun Lee, Ivan Ortega, Hua-Wei Sung
Play Game Jam Second Place Winner: Save The Boy
Third Place - Bumper Bash! by Anthony Abrams and Shannon Abrams
Play Game Jam Third Place Winner: Bumper Bash!
Wild Pockets partnered with Crispy Gamer and Microsoft to host the Bay Area Free Game Jam, which was a 24-hour game creation event open to game developers of all skill levels, backgrounds and disciplines. Teams were competing for a grand prize which included $2,500 and distribution on Crispy Gamer's BYOG website.
Judges for the event included Anne-Marie Roussel of Microsoft, Robert Ashley of Crispy Gamer and A Life Well Wasted, Jesse Manuel of Super Rewards, Jameson Hsu of Mochi Media, Andrew Sheppard of Hi5, Alan Yu of Ngmoco and Lars Butler of Trion Worlds.
"This event was amazingly successful," said Shanna Tellerman, CEO of Wild Pockets. "Everyone that participated was able to create content with little or no prior experience using the Wild Pockets platform which let the teams focus on game design and experimentation. 24 hours is a very short time period to produce a full 3D game, but the results were really impressive and innovative prototypes for what we hope to see turned into full fledged games on the platform!"
"Wild Pockets opens a door for players who want to become developers, and we're excited about the quality of games that came out of the Game Jam," said Chris Heldman, CEO of Crispy Gamer. Crispy Gamer has a deep editorial bench of games journalists aiming to provide independent, intellectual and entertaining coverage of the videogame landscape. Crispy Gamer has also differentiated itself by taking a bold stance in refusing to accept advertising from game publishers, setting a benchmark for fearless and credible industry reporting. Crispy Gamer is averaging over 1 million monthly unique visitors.
All completed games from the Bay Area Game Jam are available at Wild Pockets.com and on Crispy Gamer.com.
About Wild Pockets:
Sim Ops Studios, the creator of Wild Pockets, is a spin-off from Carnegie Melon University. Founder and CEO Shanna Tellerman alongside co-founder Jesse Schell and a team of extraordinarily talented engineers and game developers, created the Wild Pockets platform to simplify the creation and delivery of 3D content through the Web browser. The vision is to create a complete, single source solution for the creation, distribution and monetization of 3D content on the web.
Wild Pockets is headquartered in San Francisco, CA with development offices in Pittsburgh, PA.
About Crispy Gamer:
Crispy Gamer (crispygamer.com) is the independent destination for the thinking gamer. Experts and gamers come together to form critical opinions and share essential information around their passion for games and games culture. Crispy Gamer is headquartered in New York City. Privately held, the company's backing is led by Constellation Growth Capital. For more information about Crispy Gamer, please visit: http://www.crispygamer.com .
Contact:
Emily Skopic
Sim Ops Studios
412-904-5097
eskopic (at) wildpockets (dot) com
###