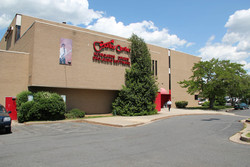 "With the acquisition of 12401 Twinbrook Parkway, the partners have jointly accumulated approximately seven acres of contiguous properties two blocks south of Rockville's Twinbrook Metro Station"
Potomac, MD (PRWEB) May 7, 2010
Willco Companies of Potomac, MD has acquired 12401 Twinbrook Parkway, a 50,000-square foot retail property located in Rockville, MD for $5.25 million. Situated on a 2.4-acre site, the building is fully occupied by Guitar Center, Inc. Willco purchased the property in partnership with two other local property owners: Fanaroff & Steppa and Don Hinton.
"With the acquisition of 12401 Twinbrook Parkway, the partners have jointly accumulated approximately seven acres of contiguous properties two blocks south of Rockville's Twinbrook Metro Station," said Brian K. Mistysyn, Manager of Acquisitions and Development, Willco Companies.
The property was purchased from Koob Veneman, who owned and operated Veneman Music Company, Inc. for over 20 years until it was acquired by national music supply retailer Guitar Center, Inc. in 2000.
Mistysyn noted that the Twinbrook Metro Station is the focus of substantial development, with numerous sites ripe for redevelopment and adaptive re-use over the next decade, including JBG's 2.2 million square foot Twinbrook Station mixed-use project.
Willco Companies is a venerable locally owned and managed commercial property development and investment firm founded in the 1960's with a five million square foot commercial real estate portfolio. For further information, visit http://www.willcocompanies.com.
###