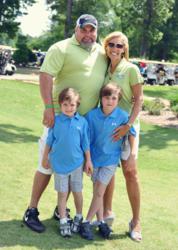 HOPE on the Green is a great way for golfers in The Woodlands and Houston metro areas to truly make a difference in the world. We are in a literal race against time to save Will, and people in The Woodlands area are helping to make that possible.
The Woodlands, TX (PRWEB) April 30, 2012
Golfers are getting ready to tee it up this Friday, May 4 at the sold out Third Annual HOPE on the Green tournament, a fun-filled day that raises critically needed funding for The Will Herndon Fund for Juvenile Batten Disease Research, a fund of the Beyond Batten Disease Foundation.
Beyond Batten Disease Foundation supports research to treat and cure Batten disease, which is a rare, fatal, inherited, neurodegenerative disorder that strikes young children, including 9-year- old Will Herndon of The Woodlands. The condition initially causes blindness and seizures, progressively impairs cognitive and motor capacities, and then ultimately results in death during the late teen years or early 20s. The foundation also has funded the development of a screening test to help prevent the devastating disease along with hundreds of other serious – and often deadly – genetic, childhood illnesses.
Because Batten disease is so uncommon, there is not much federal funding for research to treat and cure it. So, in 2008, Craig and Charlotte Benson of Austin started Beyond Batten Disease Foundation after learning that their then 5-year-old daughter, Christiane, had the condition. In 2010, Wayne and Missy Herndon of The Woodlands launched The Will Herndon Fund as part of the foundation, following diagnosis of their son, Will. Based in The Woodlands, the fund has raised nearly $750,000 to date.
HOPE on the Green will be at Woodforest Golf Club in Montgomery, Texas. The course was designed by 10-time PGA Tour champion, Steve Elkington, and is the state's No. 1 public-access course (in the $60-$81 daily fee range), according to the Dallas Morning News' 2011 rankings. On-site check-in for the four-person, scramble format event begins at 10 a.m. followed by lunch before players tee off at 12:30 p.m. Immediately after tournament play, there will be an awards ceremony, appetizers and a cigar and Scotch tasting bar.
Throughout the day, players can participate in a variety of contests. Sewell Automotive Companies is sponsoring hole-in-one and closest-to-the-pin contests for a $35,000 Infiniti G37 sedan and a weekend convertible rental, respectively. Woodforest Golf Club is generously sponsoring $1,000,000 shoot-out and $100,000 putting contests. Helicopter Services, Inc. again will provide the HOPE Helicopter Ball Drop. Golfers bet on numbered balls, then a helicopter drops the balls onto a green; the golfer who bets on the first ball that lands in the hole wins a brand new iPad 2 courtesy of The Aldridge Company.
"HOPE on the Green is a great way for golfers in The Woodlands and Houston metro areas to truly make a difference in the world – we are blessed to have more than 216 golfers signed up," said Missy Herndon, Will's mother, event chair and fund founder. "We are in a literal race against time to save Will and the hundreds of children like him. Private funding is crucial to meet our mission. People in The Woodlands and surrounding communities are helping to make that possible."
To date, The Will Herndon fund has:

Raised more than $750,000 to support a variety of research initiatives in Europe and the United States to treat and cure juvenile Batten disease. These initiatives include promising research at the Jan and Dan Duncan Neurological Research Institute at Texas Children's Hospital in Houston.
Sponsored the first conference focused on drug discovery for treating juvenile Batten disease. The conference launched initial efforts to test tens of thousands of existing compounds for their effectiveness.
Enabled a partnership with a German biotech company to develop an antibody of juvenile Batten disease protein, CLN3. This will help investigators conduct research into how the loss of this protein results in devastating disease.
Awarded grants to King's College in London and the University of Iowa to investigate potential drug targets that address the function of the cells at the heart of Batten disease.
About Beyond Batten Disease Foundation
Beyond Batten Disease Foundation works to cure and prevent Batten disease, a rare, inherited neurological disorder that strikes young children, first causing vision loss and seizures, then cognitive and motor impairment, and ultimately death during the late teen years or early 20s. The foundation raises funds for research and is leading development of an easy and inexpensive, groundbreaking blood test to detect the gene mutations that cause Batten disease as well as 600-plus, other rare but serious and often fatal childhood ailments. For more information, visit http://www.beyondbatten.org
# # #