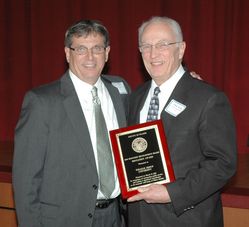 We are honored to reside in Placer County as we continue to expand our offerings and accommodate a growing student population.
Rocklin, Calif. (Vocus) March 23, 2010
William Jessup University is the proud recipient of the 2009 Education Award honoring the university for its new student apartment complex. The complex doubles on campus housing for students attending the Christian Liberal Arts University.
Six public and private sector awards were presented by PG&E's Steven J. Nichols at the annual breakfast, held on March 17. "Each of these recipients has contributed to the economic success of Placer County," Nichols explained, "We have significant reason to celebrate."
President Bryce Jessup graciously accepted the award expressing heartfelt thanks for the positive reception the university received into Placer County since it relocated from San Jose in 2004.
"We are honored to reside in Placer County as we continue to expand our offerings and accommodate a growing student population," Jessup stated.
The state-of-the-art 192 bed apartment building contains 24 total apartments, each with four fully furnished bedrooms and two baths. The eight person suites are approximately 1,420 square feet in size.
Apartment amenities include a full kitchen with new appliances, wireless internet and basic television service, central air and heating, a 100 space two-story parking garage, multiple laundry facilities and a courtyard ample for community gatherings and barbeques.
Earlier this year, Jessup's student apartment complex won an Award of Honor from the American Institute of Architects San Joaquin Chapter. The five story apartment complex was designed by Taylor Teter Partnership, an architectural firm in Fresno, California.
The upscale student apartments mark the first completed milestone in the university's $25 million expansion phase. Findings from an independent economic study by Sacramento Regional Research Institute (SRRI) states the institution could generate more than 650 jobs and $51.6 million in spending annually in the Greater Sacramento area's economy by 2012-2013.
About William Jessup University
Founded in 1939 by William Jessup, the University moved to Rocklin, California, in August 2004. WJU is the first and only WASC accredited private four-year university to have its main campus located in the greater Sacramento area, offering degrees in many different disciplines, including Business Administration, Family & Children's Ministry, English, History, Intercultural Studies, Liberal Studies (Teacher Education), Music, Pastoral Ministry, Psychology, Public Policy and Youth Ministry. Anticipated majors include fields in the humanities and science. WJU also offers a School of Professional Studies (SPS) at its campuses in Rocklin and San Jose. Program concentrations in Rocklin include Business Administration, Counseling Psychology and a Post-Baccalaureate Teacher Credential Program. In San Jose, concentrations are offered in Business Administration, Counseling Psychology, and Christian Leadership. For more information, please visit http://www.jessup.edu or call (916) 577-2200.
Contact:
Sheila Haut
916-577-1812
shaut(at)jessup(dot)edu
# # #