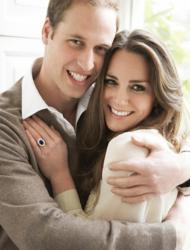 While the pair could choose to live in the most opulent of residences, they chose instead to make their main home in rural North Wales – a far cry from Buckingham Palace.
Houston, TX (PRWEB) June 29, 2011
Billions of people around the world watched as Prince William and Kate Middleton exchanged vows on April 29, 2011. The "I dos," however, didn't put an end to the royal-watching obsession. Attention quickly turned to where the couple would spend their honeymoon and begin their married life. While the pair could choose to live in the most opulent of residences, they chose instead to make their main home in rural North Wales – a far cry from Buckingham Palace. As they shun the spotlight, Will and Kate are likely to downplay the furnishings in their new abode as well. That means the duke and duchess will more likely be sleeping in an everyday king metal bed or queen metal headboard as opposed to a lavish bedroom suite. Home and Bedroom is celebrating the Newlyweds moving into their new home with a sale to allow all home owners to have "Royal Savings".
Before their nuptials even took place, London's "The Telegraph" reported, "Prince William and his new bride will spend the first years of their marriage living in the less than regal surroundings of rural north Wales." In the months leading up to their wedding, the newspaper went on to point out, "The couple … are said to have settled in well, enjoying the relative peace and anonymity the location affords." The main attraction? "The decision to retain the rural retreat as their first marital home will ensure the newlyweds have a relatively quiet few months away from the media spotlight."
That's not to say they'll be able to avoid the media frenzy entirely. When they're in London, Prince William and his wife Kate will live in Kensington Palace, "the London residence once shared by the prince and his late mother Diana," the AFP reported last month. Although "the newlywed couple will move into a different property within the grounds," they'll still be stuck with the palace's austere furnishings and decorations part time.
Given that they can't completely avoid the extravagant lifestyle, the duke and duchess will want to make their home in the countryside as cozy and simple as possible. Indeed, Kate's wedding gown is proof of her unpretentious leanings. As Reuters reported following the marriage, "Kate Middleton wore a stunning but simple ivory dress created by Alexander McQueen's Sarah Burton to marry Prince William on Friday."
That being the case, an king metal bed from a quality manufacturers like Hillsdale Furniture or Fashion Bed Group will be more to her liking than the extravagant king's palace bedroom set. In fact, she might even opt for a queen headboard from PrePac or South Shore instead so her and her prince can get a little bit cozier. In that case, Londoners might be getting that new royal heir sooner than they'd hoped. Home owners can get an extra 5% savings on Home and Bedroom's already discounted prices by entering the code 'royalty' into the coupon box on every checkout page.
To find a metal bed or metal headboard that will turn any bedroom into a royal getaway, visit Home and Bedroom (http://www.home-and-bedroom.com/). For more information on how to give the cozy Welsh countryside flavor to a bedroom, contact Home-and-Bedroom.com's Ben Weissman at bweissman(at)home-and-bedroom(dot)com.
###