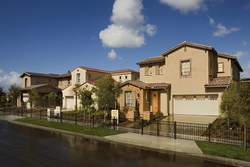 Newport Beach, CA (PRWEB) April 15, 2010
First-time buyers from Glendora to San Diego are purchasing brand new William Lyon homes just in time to receive up to $18,000 in tax credits*. The builder started with 30 move-in ready homes that accommodate the tax credit deadlines and there are just 19 homes remaining and only 19 days left. Eligible first-time buyers must act now to benefit from prices that start from the mid $200,000s and both the state and federal tax credits, which total up to $18,000 in savings.
California buyers who purchase a brand new home by April 30, 2010 and who close escrow between May 1 and June 30, 2010, may be eligible to receive up to $18,000 in tax credits, but time is running out to meet the deadlines. The available homesites are posted online at http://www.30homes30days.com so log on today, view what is available and also learn who may be eligible for $10,000 in California State Tax Credits and $8,000 in Federal Tax Credits.
"These tax credits that could add up to $18,000 are big news for smart California consumers who want to achieve their goals of homeownership this year. With important deadlines just around the corner, timing is everything for eligible buyers who want to take advantage of the tax credits and move closer to having the home of their dreams," said Lesley Pennington, Director of Sales for William Lyon Homes. "The state has set aside $100 million for tax credits but once the funds have been distributed, this opportunity will be over. Every dollar counts, which makes now the best time to go online to learn more about William Lyon Homes' participating homesites."
Neighborhoods by William Lyon Homes that are participating in the 30 Homes 30 Days Sale include Rosabella's attached townhomes at gated Shady Trails in north Fontana and Adelina in north Fontana, which has only three model homes left in the entire collection. The Vintage collection at gated Arboreta in Glendora is in a builder close-out, with the Residence One Model its final townhome.
Additional offerings include Maybeck at 4S Ranch in San Diego, which is in a close-out, with just one model home for sale in the entire single-family detached neighborhood. Pasado at Del Sur in San Diego is a brand new address showcasing single-family detached homes and Blossom Grove at The Foothills recently introduced its single-family designs in Carlsbad.
*The Federal Tax Credit of up to $8,000 or 10% of the purchase price of home (whichever is less) is for qualified first-time buyers purchasing a principal residence that is priced at $800,000 or under and is only available for buyers who enter into contracts on or before April 30, 2010 and close escrow on or before June 30, 2010. The California State Tax Credit applies over a 3 year period, is for up to $10,000 or 5% of the purchase price of a newly built home, whichever is less, and is available for homes that close escrow on or after May 1, 2010 and on or before December 31, 2010 or on or before August 1, 2011, pursuant to an enforceable contract executed on or before December 31, 2010. The credit pool is limited to $100M and will be applied on a first come, first served basis. Not all buyers will qualify for the state tax credit. William Lyon Homes is not responsible for confirming whether the Federal and State Tax Credits are still available, nor is giving legal, accounting or tax advice or consulting of any kind. Please consult with qualified legal, financial and tax advisers to determine whether you will qualify for all or any portions of the federal and/or state tax credits. Visit http://www.federalhousingtaxcredit.com and http://www.ftb.ca.gov/ for complete details.
William Lyon Homes means it when they say that they put themselves into their homes. That's because they build each and every home as if it were their own. They've earned a solid track record for constructing homes throughout the West since 1954.
Prices are effective as of the date of publication. All homes are subject to prior sale. Prices and availability of homes are subject to change without notice. DRE Officer License: 00982816.
# # #