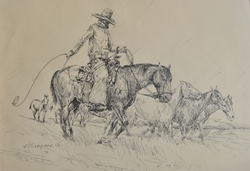 Painting is my life. I am first, last and always a painter.
Issaquah, WA (PRWEB) February 1, 2010
Known for his unforgettable role as Chief Bromden in One Flew Over the Cuckoo's Nest, William Sampson, Jr. entertained and moved audiences in numerous films, TV shows, and on stage. But his most important role was one that he played all of his life, that of Indian cowboy and artist.
Now for the first time, fans and Western art enthusiasts can meet the real Will "Sonny" Sampson in a beautiful coffee table book, Beyond Cuckoo's Nest - The Art and Life of William Sampson, Jr.
Illustrated with photographs of more than 50 paintings and over 70 sketches, the originals which are in private collections, the poignant book takes the reader on a rare and tender journey. The 200 glossy pages begin with a three-year-old-boy drawing in the dirt, taking the reader all the way to the 6' 5" actor, whose talent and charm influenced many.
The Muscogee Creek Indian also holds a special place in American history. Together he and the book's author started the American Indian Registry, forever changing how Native Americans are viewed in Hollywood.
"Painting is my life," he said. "I am first, last and always a painter."
Indeed, Will Sampson claimed that acting supported his painting habit. Written and compiled by his personal assistant, Zoe Escobar, the book was a long time in the making.
"After Sonny's passing, I boxed up all the research material and sent it to a friend for safekeeping. There it languished for nearly 25 years," she said.
Personal stories told by Will, interviews with his family, and Zoe's own personal experiences, combine with rare photographs of both art and artist. The end result is an extraordinary collector's item.
Books may be ordered online at http://www.BeyondCuckoosNest.com.
# # #