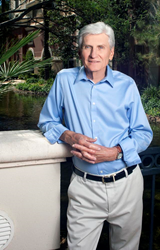 I practice what I preach; if something didn't work for me, I wouldn't put it in one of my books.
(PRWEB) October 21, 2014
Dr. William Svoboda has an incredibly inspiring story. Born during the Great Depression, his childhood was spent living an almost nomadic life as his parents traveled over the country, going wherever they could find work. Due to not spending consistent time in schools and having no books in the house, he had trouble reading; eventually, he learned to do so using comic books. Despite all this, the young Bill Svoboda worked hard and rose to prominence in high school, taking part in athletics, becoming homecoming king, and receiving a Navy scholarship. Eventually, he received his higher education, including a doctorate in professional education.
Dr. Svoboda's first book, Your Choices, Your Life launches through Next Century Publishing in November. The book focuses on motivating readers to take control of their lives. Says Dr. Svoboda, "I practice what I preach; if something didn't work for me, I wouldn't put it in one of my books." He suggests that a healthy and balanced life is made up of five factors: physical health, mental health, financial security, the skills of critical thinking and problem solving, and one's personal responsibility to others, the environment, and themselves. Dr. Svoboda believes everyone should do no harm, make things better and be fair; life is about being the best version of oneself and helping others.
Still active and young despite his 78 years, Dr. Svoboda is hard at work on his next book, What's Most Important, slated for release in the early summer of 2015. A skilled speaker, trainer, and business consultant, Dr. Svoboda frequently participates in presentations and training engagements. He shares his incredible story and unparalleled skills with others, living his philosophy of making the world a better place.
Dr. Bill Svoboda
Bill Svoboda started his education in a one-room school in southern Missouri. He earned bachelor's, master's and doctorate degrees from the University of Kansas. Bill was a junior high school teacher in Kansas City and in San Juan, Puerto Rico. He has taught in higher education at the University of Kansas; University of Missouri; University of Puerto Rico; Morogoro College of National Education in Tanzania, Africa; Arizona State University Main Campus and Arizona State University West Campus. He has consulted with and spoken to hundreds of profit and non-profit organizations.