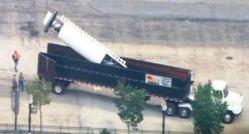 Chicago, IL (PRWEB) July 17, 2012
On Sunday, July 8, Chicago-based industrial services company B.L. Duke played an integral role in the process of removing the old ABC7 antenna from the top of Willis Tower. The analog antenna had been there since its initial installation in 1982 and its removal was considered a historic moment by the crews working to take it down. It was removed to make way for a new, much stronger antenna, which will provide a clearer signal to area residents.
Removing the ABC7 antenna required extensive coordination between multiple companies including the B.L. Duke's team. The whole planning process took over 6 months. "The multiple layers of safety and coordination were carefully planned and executed. It was exciting to watch such a technical operation transpire without a hitch. I'm proud that B.L. Duke was part of this team," says Lou Plucinski, President of B.L. Duke. The antenna itself weighed 4,000 pounds and had to be airlifted off the building via helicopter. The antenna was loaded onto a piece of B.L. Duke's heavy hauling equipment and transported to B.L. Duke's scrap metal yard, where it will be recycled.
B.L. Duke is a top Chicago-land industrial services company specializing recycling, demolition, and transportation services. Begun as a trucking company, they have grown and adapted to the constantly evolving needs of their customers and now seek to provide a one-vendor solution for clients.
They also maintain a commitment to eco-friendly business practices, including utilizing bio-diesel trucks and comprehensive recycling processes across all possible projects. Chicago-land businesses can contact B.L. Duke today for more information on services or to receive a quote.