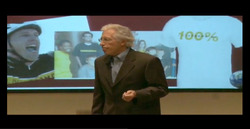 Livestrong has become something bigger, a way of life, a challenge, a goal, a way to set the bar higher
San Diego, CA (PRWEB) July 15, 2009
Lance Armstrong's comeback in the 2009 Tour de France is a powerful reminder of the good that an inspired athlete and an inspired company can do together in the form of cause marketing, according to Will Marré, an Emmy Award winning writer, acclaimed speaker and expert on branding and innovation. Marré addressed cause marketing when he spoke to Nike's national sales team in a leadership workshop on June 22. Marré applauded Nike's great efforts as they moved beyond cause marketing to what he calls cause branding in their Livestrong campaign.
Cause marketing, a type of marketing that involves the cooperative efforts of a "for profit" business and a non-profit organization for mutual benefit, is becoming a more widely used marketing strategy, as more and more consumers are rewarding companies that are taking on social and environmental issues. According to a Cone Corporate Citizenship Study, consumers are embracing cause marketing. 72 percent of those surveyed feel it is acceptable for companies to involve a cause or issue in their marketing, and an overwhelming 86 percent say they are likely to switch from one brand to another, price and quality comparable, if the other brand is associated with a cause.
According to Marré, to accelerate cause marketing to cause branding there are six sources of energy that companies need to adopt to create the greatest source of brand loyalty. They are 1) Physical. Is the design of the product or experience consistent with the cause? 2) Emotional. Is there a vivid story behind it that creates positive emotions or a sense of opportunity? 3) Mental. What will I learn from interacting with this brand? 4) Social. Is there a way to socially connect? 5) Spiritual. What are the values the organization is communicating through your brand, and is there a way to interact with those values? 6) Identity. Is this brand a unique expression of who I am?
As Marré asserts, Nike's Livestrong campaign is a prominent example of a cause branding campaign that has tapped these sources of energy and has been extremely successful because of it. Nike and Lance Armstrong's Livestrong has sold over 70 million wristbands resulting in $63 million for cancer research and programs. Armstrong states, "Livestrong has become something bigger, a way of life, a challenge, a goal, a way to set the bar higher" (USA Today).
In addition, 100 percent of the proceeds from Nike's entire Livestrong collection go to the Lance Armstrong Foundation. Mark Parker, Nike Inc. president and CEO, told USA Today, "Our goal is to create a sustainable process to support Lance in his drive for momentum around this issue." Marré commented, "100 percent of the Livestrong profits completely align with Nike's 'hero' brand. 100 percent is an unmistakable commitment. And 100 percent commitment is at the core of Nike's message."
Marré states, "I love working at Nike. Their campus is filled with trees and water and serves as a physical celebration of sport and achievement." He continues, "Nike has a special energy only found when groups of people love what they are doing and are bonded together by a common cause, which is to inspire excellence." Marré further asserts, "What really separates the Livestrong campaign from others is that the cause doesn't just support the brand; it is the brand. That is a huge differentiator."
In his new book, Save the World and Still Be Home for Dinner (Capital Books, September 30, 2009) Marré explores how doing the most good one can imagine will often create the biggest marketing impact. His passionate message has inspired executives at top companies such as Johnson & Johnson, GE and Nike to think differently about cause marketing and make a bigger impact.
More information on Will Marré's unique approach to branding and cause marketing can be found at WillMarre.com.
About Will Marré:
Will is an Emmy Award-winning writer, speaker and coach. He is the co-founder and former president of the Covey Leadership Center (The 7 Habits of Highly Effective People) and CEO of the REALeadership Alliance where he helps leaders identify, communicate and implement new socially strategic business models. Will has been a personal leadership coach and advisor to multi-billion dollar global companies such as Disney and Johnson & Johnson. For the past 10 years he has focused on making corporate social responsibility strategic. His book, Save the World and Still Be Home for Dinner will be released in fall 2009.
For more information on opportunities to have Will speak, please visit WillMarre.com, or for more information on Will's consulting practice, please visit Realeadership.com. You can also follow Will on Twitter (@WillMarre) and Facebook.
###