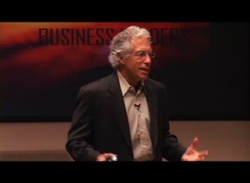 The future has arrived and just in time
San Diego, CA (PRWEB) September 3, 2009
"The future has arrived and just in time," states Will Marré, leadership expert and award-winning writer. In his upcoming speech to a large audience of southern California business leaders, entrepreneurs, and non-profit directors at the annual Social Enterprise Institute's Academy Finalist Showcase September 15, 2009, Marré will show how in our new future leaders will no longer decide between turning a profit and serving the planet; they will do both. In fact, according to Marré, growth and profits will come from solving mankind's largest challenges.
The Social Enterprise Institute is a non-profit organization that fosters the convergence of non-profit and for profit organizations to develop the skills and networks needed for growing social enterprises. At this special annual event local social entrepreneurs will compete for over $10,000 in cash and pro bono support for their developing mission-related social purpose business. A winner will be selected whose new enterprise is judged to bring a revolutionary solution to a social or environmental problem.
In the keynote, Marré will present a startling worldview taken from his upcoming book, Save the World and Still Be Home For Dinner (Capital Books). He believes that business is at the front end of a revolution as big as the industrial revolution in which the new goal is to transform sustainability into value rather than things into money.
Marré believes that the creative destruction of business as usual will accelerate and that in the not so distant future hybrid enterprise will become the dominant business model superseding both traditional business and non-profits. He states, "The problem today is that the corporation is simply a piece of flubber. What's missing is the spine of human value that will lead to a future we can all thrive in."
The answer, as Marré introduced to Forbes recently, is socially strategic enterprise. In his new book, Marré explains how socially strategic enterprise incorporates the efficiencies, disciplines and rewards of for-profit business with the broader interests of directly solving humanitarian and environmental challenges. True hybrid enterprises maximize human ingenuity and value creation. Exactly what, Marré says, is needed to save the world.
Marré's over thirty years experience helping enterprises of all sizes from Johnson & Johnson to non-profit start-ups like Seacology gives him a unique in-the-trenches perspective. He uses real examples of large and small companies that are employing creative, globally connected thinking to eliminate waste, heal the environment and promote social justice while also driving new growth and boosting profit margins.
Marré asserts, "People are on the alert that what we are doing is turning our planet into a hunk of charcoal and is creating a home that will be nothing but misery for billions of people. This is not a future that we will stand for. That is becoming clearer and clearer." He continues, "Reinventing the world to be sustainably abundant is the greatest economic opportunity in history. It is exciting to be at the beginning of our new future."
For more information on the event and registration details, please visit the Social Enterprise Institute.
About Will Marré:
Will is an Emmy Award-winning writer, speaker and coach. He is the co-founder and former president of the Covey Leadership Center (The 7 Habits of Highly Effective People) and CEO of the REALeadership Alliance where he helps leaders identify, communicate and implement new socially strategic business models. Will has been a personal leadership coach and advisor to multi-billion dollar global companies such as Disney and Johnson & Johnson. For the past 10 years he has focused on making corporate social responsibility strategic. His new book, Save the World and Still Be Home For Dinner, is being released Sept. 30, 3009.
For more information on opportunities to have Will speak, please visit WillMarre.com, or for more information on Will's consulting practice, please visit Realeadership.com. You can also follow Will on Twitter (@WillMarre) and Facebook.
# # #