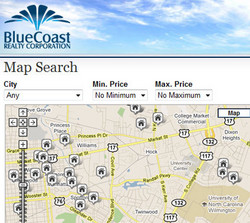 Technology allows our clients to find their ideal home more easily and sell their home more quickly.
Wilmington, NC (PRWEB) March 8, 2011
BlueCoast Realty Corporation is improving the process of buying and selling homes by employing a variety of targeted web 2.0 technologies. Technologies such as streaming video, interactive map search, social marketing, search engine marketing and other emerging technologies are improving the home-buying and home-selling experience for BlueCoast Realty's clients. Bill Kane, president of BlueCoast Realty explained, "The Wilmington, NC real estate market offers great opportunity for buyers and sellers but we felt the home marketing and sales process was not taking full advantage of these technologies."
In early 2010, Bill Kane and several members of the BlueCoast team, set out to improve the process of buying and selling a home. They began by surveying existing and previous clients. "We asked our clients what they wanted, what was working and was not. They told us how they wanted to search for homes, what technologies they used and what they expected during the buying process." Bill Kane continued, "home-sellers were very clear, they expected their home to be marketed professionally, they wanted a lot more than just placement in the MLS."
With extensive feedback from clients BlueCoast then hired a marketing consultant and web development firm to assist in bringing these new ideas to life. Working collaboratively, they began overhauling the new-listings process by integrating professional staging, photography and writing. This continued with significant visibility improvements. "We were well aware of the web traffic statistics, and we made sure our website and our client's listings maintained high visibility in the search engines and major web channels such as Realtor.com." said Kane. Real estate video tour software, bar-code scanning, interactive CDROM technology and other powerful interactive technologies were also used on several of their test clients. "One of the properties we tested was listed in early January, by the end of the month we had 15 showings, our client was blown away" explained Bill.
The BlueCoast website (http://www.wilmingtonnchomesforsale.com) currently serves thousands of visitors monthly and allows users to search homes for sale in Wilmington, NC by map, zip code, MLS number and community. Future plans include use of advanced analytics software and presentation tools. "The future looks bright, technology allows our clients to find their ideal home more easily and sell their homes more quickly, it improves almost every aspect of the real estate experience."
About BlueCoast Realty Corporation - Headquartered in Wilmington, North Carolina, BlueCoast Realty is a full service buyers and sellers agency focused on Wilmington, Wrightsville Beach, Leland and surrounding areas of southeast North Carolina. Currently, BlueCoast Realty maintains 43 agents, some of which specialize in beach real estate, luxury homes and specific communities. For more information, or to search for homes for sale in Wilmington, NC visit BlueCoast Realty online at (http://www.wilmingtonnchomesforsale.com)
###