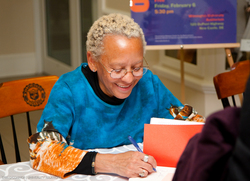 I had to find a way to connect these wheels, to make sense of it all. And if I could connect them all, I could move
New Castle, DE (Vocus) February 11, 2009
Over 300 people packed into Wilmington University's Doberstein Admissions Center Auditorium this past Friday, February 6, to catch a glimpse of Nikki Giovanni, author, poet, and activist admired the world over. "Off the Page: An Evening with Nikki Giovanni" was presented by the Wilmington University Library, in partnership with the Delaware Center for the Book, and the Delaware Division of Libraries. The event was also simulcast online with users logging on from as far away as Arizona, Canada, Michigan, and California.
Nikki Giovanni is the author of 26 books, including the Black Feeling Black Talk/Black Judgment, first published in 1968, and Rosa, a children's picture book about civil rights legend Rosa Parks. Giovanni has come to be called both a "national treasure" and one of Oprah Winfrey's 25 "Living Legends." She has won numerous achievement, humanitarian and recognition awards, most recently being honored as the first recipient of the Rosa Parks Woman of Courage Award.
Wilmington University Library Director, Jim McClosky, welcomed the audience and introduced special guest JoAnn Balingit the Delaware Poet Laureate. Annie Norman from the Delaware Division of Libraries then took the stage, "We are very pleased to be partnering with Wilmington University and the Delaware Center for the Book to bring interesting and unique authors to Delaware."
As Nikki Giovanni stepped onto the stage the audience broke into applause and gave her a standing ovation. "Thank you," said Giovanni adjusting the microphone to suit her small frame, "I lived here in Wilmington for many years so this is really a homecoming for me." Giovanni began by speaking about the loss of her mother to cancer in 2005. A few years later she too was diagnosed with cancer. A few years later she tragically lost her sister to lung cancer and her long time friend and activist Rosa Parks. It was out of this tragedy that she wrote the collection of poems Acolytes, published in 2007. "I had to keep my art going," said Giovanni who was overcome with grief, "You can't give up you know. So I wrote Acolytes as a way to heal. I wrote my way out of an incredible sadness and I will always have a hole in my heart."
Giovanni says she wrote her most recent collection of poems, Bicycles, as a way to cheer herself up. "Love poems always cheer me up," said Giovanni. Bicycles, which was sold at the event on Friday, has been released just in time for Valentine's Day. So wildly popular was the book that it sold out before Giovanni even got on stage to speak. "The book Bicycles came out of two tragedies at the school I work at, Virginia Tech," said Giovanni, speaking of two incidents on and off campus that involved homicides. "I had to find a way to connect these wheels, to make sense of it all. And if I could connect them all, I could move," said Giovanni.
So she started thinking about wheels and it reminded her of the first time she learned to ride a bike. Giovanni says it takes two things to learn to ride a bike: the first thing is self-trust, and the second thing is balance. "You see love is just like riding a bike," said Giovanni, "it takes trust and it takes balance. And you may fall a few times but you have to get back up and keep riding." Giovanni then shared two poems from her collection Bicycles, followed by an audience question and answer session and a book signing.
Giovanni was born in Knoxville, Tennessee in 1943. She graduated with honors in History from Fisk University and has been on the faculty of Virginia Tech since 1987, where she is a University Distinguished Professor. Giovanni raps, writes and rhapsodizes about the love and joys of life, the things that give us balance in between the heartache and loss.
When asked by one of the audience members what inspires her to write poetry Giovanni simply answered, "I am just fascinated with the human spirit."
To see more pictures from this event visit http://www.wilmu.edu/ur/multimedia/galleries/galleryselect.aspx.
MEDIA CONTACT:
Suki Deen
University Relations Associate
Wilmington University
31 Read's Way
New Castle, DE 19720
T:(302) 295-1164
Cell: (302) 563-6282
FAX (302) 295-1137
Suki.r.deen(at)wilmu.edu
###