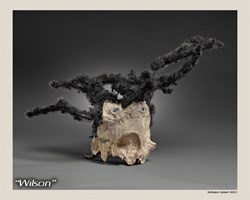 New York, NY (PRWEB) October 15, 2013
Wellington Caldwell enters the contemporary art scene with poster replicas of "Wilson," a unique and creative sculptor, designed personally by Caldwell.
About the Wilson Art Poster
The posters are digital replicas of the Wilson sculpture, also created by Caldwell. Wilson is primarily made of wood and is a distinct art piece that will surely capture the attention of all who views it. The sculpture features a unique face, which contains two mysterious sets of eyes.
Sizes of art posters vary and are autographed by the artist. Wilson posters may be viewed by visiting http://www.youtube.com/watch?v=EMXd4sKd-tg and they are sure to make a wonderful addition to any contemporary art collection.
About Caldwell
Caldwell, a seeker of whimsy and magic, created the new art piece, "Wilson," after discovering a large section of a tree trunk while on a nature hike in Upstate New York. Caldwell spent many months carving the sculpture and it eventually took on a life of his own. Once Caldwell completed the carving of the sculpture, a story was created with a theme of trickery and eventual redemption.
Contact
Art buyers interested in purchasing either the Wilson sculptor or a digital art poster of Wilson may contact Wellington Caldwell directly at (516) 216 – 3172. Inquiries can also be made via email LWellington02(at)gmail(dot)com. The Wilson art piece can be viewed in detail by visiting Caldwell's YouTube page http://www.youtube.com/watch?v=EMXd4sKd-tg. Also available from the YouTube page is a direct link for interested viewers to purchase Wilson posters via eBay with free shipping.