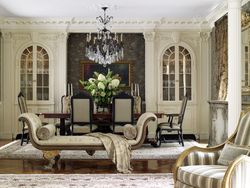 "We are delighted to be acknowledged on such a variety of platforms" notes John Kelsey, "these awards have been presented to us by both our design peers and the construction industry."
Boston, MA (PRWEB) November 7, 2010
The Institute of Classical Architecture and Classical America New England recently awarded Wilson Kelsey Design, Inc. with Best Residential Interior Design and Interior Renovation of a Prides Crossing residence in Beverly, Massachusetts. The First Annual Bulfinch Award, named for Charles Bulfinch, America's first native-born architect and designer of the Massachusetts State House, recognizes individuals and firms who preserve and advance New England's classical design tradition. The Bulfinch Award marks Wilson Kelsey Design's tenth award this year.
Celebrated for creating elegant, yet genuinely livable homes, Sally Wilson, ASID and John Kelsey continue to garner acclamations for their design talents. The firm has been published both locally and nationally and was recently featured on the cover of New England Home Magazine. "We are delighted to be acknowledged on such a variety of platforms" notes John Kelsey, "these awards have been presented by both our design peers and the construction industry." Wilson Kelsey Design's specialties include interior architecture and interior design and decorating of private residences and commercial spaces.
At the recent American Society of Interior Designers (ASID) New England 2010 Design Excellence Awards, Sally Wilson, ASID took the podium three times to accept awards for 1st Place Residential Bath, 1st Place Residential Space, and an Honorable Mention for a Residential Kitchen. The design awards event was the culmination of ASID's business conference: Eye on Business and Eye on Design. "I am honored to be acknowledged among so many great interior designers," noted Sally Wilson, "the projects represented at this event are truly remarkable."
In the 2010 Dream Home Awards, a national organization that invites firms from all 50 states to submit their design and building projects, Wilson Kelsey Design was once again a triple winner accepting a Gold Award for Best Kitchen Remodel, a Silver Award for Best Design of a Condo/Townhouse/Loft, and a Silver Award for Best Bathroom Remodel. The Dream Home Award winners are acknowledged for their ability to set new standards of excellence within the Nation's Building Industry. In similar award programs Wilson Kelsey Design was presented with a Silver COTY Award for Best Kitchen over $150,000 presented by the National Association of the Remodeling Industry and Silver Prism Awards for Best Kitchen Remodel over $150,000 and Best Interior Design of a Living Area sponsored by the Builders Association of Greater Boston.
Wilson Kelsey Design's cover article in New England Home Magazine featured a renovation of a 1907 carriage house originally built as a stable. Wilson Kelsey Design - whose strengths lie in their ability to design both the hard, [interior architectural details and initiate comprehensive interior design and decorating solutions - created a magnificent, elegant home with a significantly European panache.
Based outside of Boston, Massachusetts, this husband and wife team of John Kelsey and Sally Wilson are unique in that they bridge the gap between architect and decorator. They share a strong technical background, including the ability to read and prepare architectural drawings. The former producer of This Old House referred to their work as "heavy-duty interior design." In organizing their firm, they have divided the labor between them into the "hard" and the "soft". John designs and details the hard - interior architectural detailing, cabinet design, lighting, interior construction drawings, construction field supervision, and consultant coordination. Sally initiates and implements project concepts inclusive of interior design, furniture, decorative lighting, antiques, fabrics, and color and finish selections. The homes they design are elegant and sophisticated but always with a sense of comfort and livability. With backgrounds in commercial and corporate design as well as private residences the team specializes in a variety of project types.
About Wilson Kelsey Design, Inc.
Wilson Kelsey Design, a residential interior design firm serves upscale clients in Greater Boston and beyond. Their range of services spans initial design ideas through project completion for both new construction and renovations. The husband-and-wife team of John Kelsey and Sally Wilson co-founded the firm in 1996 and continue today as the two principals. http://www.wilsonkelseydesign.com
###