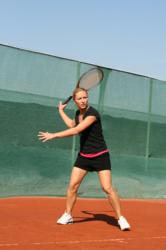 Increased membership can only be a good thing for club administrators, right?
(PRWEB UK) 16 June 2013
It's an annual rite of passage every summer in London after the world's best tennis players do battle on the iconic grass tennis courts of the All England Tennis and Croquet Club. All the added attention gives way to a favorable tennis participation boost in the area, as additional memberships are purchased at the All England Club (and other surrounding athletic clubs).
Participation also increases elsewhere throughout the nation - for a brief period of time, at least.
Yes, eventually this momentum sputters and things return to the way they were, typically over the course of a couple weeks. The trend, known as "the Wimbledon effect," is evident not just on the grass courts of the All England Tennis and Croquet Club, but all over the world in sporting events, ranging from PGA golf tournaments to the summer and winter Olympic games.
The economic boosts from the participants and spectators taking to the area for the event eventually will come back down to regular levels, but whether additional memberships at local athletic clubs stick is another factor. By the definition of the Wimbledon effect, normally these numbers return to normal too. And it's a shame, being that there are a variety of benefits to taking up sports and athletics, such as:
General fun and enjoyment.
Increased self-esteem.
Development of skills, such as motor, strategic thinking, math and leadership.
Studies show that high school students that also play sports do better academically.
Regular exercise, which helps relieve stress and lead to a better quality of life.
Getting involved in athletic activities is a great thing, so why don't more people stick to it? Why does the Wimbledon effect exist? There's reason to believe this trend may change. For that, we look no further than the recent 2012 summer Olympic games.
The 2012 Summer Olympics
Research shows that 44 percent of councils have experienced an increase in people participating in Olympic events and activities in the games' aftermath, such as:
Cycling
Volleyball
Swimming
Gymnastics
Handball
Not coincidentally, these increases were all reported around London and the U.K., the city and nation that hosted the summer games. In other words, there's the hope that this increase in athletic participation will continue, inspiring other people to take up the niche sports that are featured in the Olympic games, rather than succumb to the Wimbledon effect that characterises the annual tennis tournament hype then fallout. A big part of why this trend may be changing is due to the funding and encouragement of participation in such programs.
Strong, sensible and impactful planning. It's the key to snapping the Wimbledon effect and actually giving way to long-term success in areas of participation.
Simon Hodgkinson of PayZip (an online payment tracking system for sports clubs) commented, "Increased membership can only be a good thing for club administrators, right? However, in our experience with sports clubs, we know the additional strain that increasing numbers can mean for those behind the scenes, and we don't just mean the extra kits that need laundering."
"Collecting and tracking payments from your members is a vital part of running any club, although we also know it's the job no one loves... More members means more membership fees and trip payments to collect and record."
Built specifically for sports club and not-for-profits, PayZip offers a powerful payment tracking solution that's easy to set up, can be used on any mobile device, and best of all, it is totally free. Try it today to see how much easier it will make running your club - head to http://www.payzip.co.uk for more information.