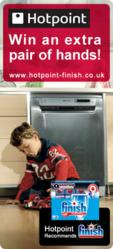 London, UK (PRWEB UK) 1 October 2011
Leading household brands Hotpoint and Finish have launched a joint Facebook page to help people discover how much time a dishwasher could save them. Entitled 'Hotpoint Helping Hands', the page sets out the benefits of a dishwasher compared to washing up in the sink.
Research shows that you can gain up to four hours* a week by switching from the sink to a dishwasher. Together, Hotpoint and Finish are the helping hands that let you do this.
As well as giving you more time for the important things, Hotpoint dishwashers get dishes cleaner than washing by hand especially when combined with the targeted cleaning formula of Finish Quantum tablets.
In addition to the new Facebook page, Hotpoint and Finish are running a competition to win a cleaner for a year, along with special offers and all the reasons you need to ditch the marigold gloves at http://www.hotpoint-finish.co.uk.
*Source: Intertek UK Washing Up Study 2008
Editor's notes:
The 'Helping Hands' Facebook page has been developed by Alchemy Interactive (http://www.alchemyuk.com), an award winning website design agency based in London, UK. Alchemy Interactive provides the full range of digital solutions, including web design, online marketing, website development, Content Management Systems (CMS), Ecommerce Solutions, Search Engine Optimisation (SEO) and social media marketing.
# # #