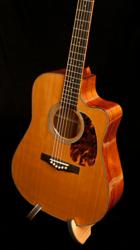 "We have found guitar raffles to be an effective way for Lichty Guitars to give back to our community and to help raise awareness about causes we are passionate about." - Corrie Woods of Lichty Guitars.
Tryon, NC (PRWEB) April 10, 2012
Through the 2012 Guitar Raffle for the Lance Armstrong Foundation people have an opportunity to win a guitar built by luthier Jay Lichty while supporting a great cause.
Most people's lives are touched by cancer, either as a personal health challenge or as a diagnosis and battle fought by someone close. The Lance Armstrong Foundation has raised over 400 million dollars going to cancer survivorship programs, support programs, research and awareness building campaigns. Proceeds from this raffle will go to the Lance Armstrong Foundation.
The Raffle Guitar is a handmade dreadnought guitar with a cutaway body style. The back and sides are hormigo and the top is cedar. The retail value of this guitar is $4,700. See and hear this guitar at the Lichty Guitars' website
Tickets: $50 each with sales limited to 100
Purchase tickets in person at Nature's Storehouse or from anywhere in the country using credit card by calling 828-859-6356 during normal business hours.
Raffle Dates: April 1st to June 2nd, 2012. The winning ticket will be drawn the night of June 2nd, 2012 at the Geoff Achison/Randall Bramblett concert at the Tryon Fine Arts Center.
This raffle is being coordinated by John Cash, owner of Nature's Storehouse. Cash is a passionate advocate for the Lance Armstrong Foundation and local cancer survivorship programs. His annual event, Climb to Conquer Cancer, is another example of his fundraising efforts. It is a grueling bike ride that entails 10 trips up and down the mountain grade between the North Carolina towns of Tryon and Saluda. This year's ride happens April 28th in Tryon, NC.
Learn more about how to win a guitar at http://lichtyguitars.com/
###
Handcrafted and built-to-order by North Carolina luthier Jay Lichty, Lichty Guitars combine the highest quality materials with premium exotic and domestic tonewoods for heirloom quality custom-crafted acoustic guitars and ukuleles. Lichty single-handedly builds each of the 30 instruments he produces a year - creating award-winning works of art played and praised by professional musicians from Japan to Nashville. For more information visit http://www.lichtyguitars.com.