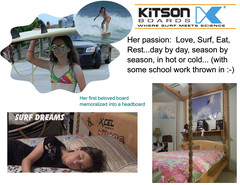 While we received some amazing stories, the passion of a young surfer was by far the most heartwarming read
Olympia, Washington (PRWEB) December 14, 2012
Kitson Boards, the premier designer and manufacturer of carbon fiber surfboards and paddle boards decided to host a contest aimed at a specific type of person. The broken board contest, which was inspired by a KB employee who'd recently broke their surfboard, was aimed at other surfers who's boards broke in tragic ways.
KB Director of Communications opened the contest in early November and received a high amount of entries, "Reading the submissions and viewing the photo's was by far the best part of running this contest," said Hoskins, "I could feel the passion these people had out on the water and the loss they felt from loosing such a valuable object."
Prizes were awarded for the first, second and third best stories. The winner of the Semi Gun went to Melissa, a young surfer who's broken board was fashioned into a headboard for her bed by her father.
"While we received some amazing stories, the passion of a young surfer was by far the most heartwarming read." said Hoskins.
Winners were announced via the Kitson Boards Facebook page and the website on Monday afternoon. Winners have 7 days to claim their prize.
Founded by Michael and Denise Kitson, Kitson Boards, LLC headquarters is located in Olympia, WA. Kitson Boards are all crafted out of the ultra durable and long lasting carbon fiber material. All production of surfboards, paddle boards and wakesurf boards, as well as the people behind the brand are based in North America. Kitson Boards prides itself on outstanding customer service and only the finest in recreational boarding and accessories. Free shipping is available throughout the continental USA.