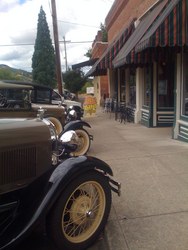 What makes you uniquely qualified to own this restaurant?
Historic Oakland, Oregon (PRWEB) June 15, 2009
A $1 million restaurant last appraised in 2007 will go for the price of a $500 entry fee in a new contest that runs June 10 through Aug. 31, sponsored by Boutique Culinary LLC, the owners of Tolly's Restaurant in historic Oakland, Oregon. Tolly's has been a local landmark for 40 years and draws customers from around the world for its food, service and atmosphere. The charm of this 1906 brick western building approximately 5000 square feet, includes a soda fountain, saloon, small gift shop, main & 2nd floor dining and outdoor patio dining.
Chef Jeffrey Parker and Myra Plant, partners in business as well as life, bought Tolly's in 2007. They already owned The Campbell House Inn & Restaurant in Eugene, Ore., and envisioned creating an inn to complement the iconic restaurant in Historic Oakland, Oregon.
"With the poor economy at hand, realizing in order to still show a profit we both are working opposite hours and in two locations. Experiencing this reality of operating two properties an hour's drive apart, we learned some things about ourselves," Plant says. "We realized we want to be together more and focus all of our energies and resources on The Campbell House. Tolly's is such a special property that we both felt we wanted to transfer it to just the right new owner. That's how we hit on the idea of a contest."
Oregon law requires that contests be based on skill rather than luck. Entrants must answer 3 questions, such as "What makes you uniquely qualified to own this restaurant?" and "What would your signature dish be for the restaurant?"
A panel of independent judges will select the top eight contestants who will participate in a final cook-off to be held in Historic Oakland, Oregon in September. Each of the eight finalists will receive $1,000 in expense money to travel to Oakland to prepare their signature dish for the judges. Criteria include taste, side dishes, presentation and beverage pairing. The winner receives the title to the Real Estate and turn-key operation of the restaurant, including the furniture, fixtures, service-ware and limited supply of food and operational supplies.
To enter, contestants can go online at http://www.tollys-restaurant.com, complete the form and pay the entry fee. Contest rules and more information are available at this site.
CONTACT INFORMATION
SPONSOR: BOUTIQUE CULINARY L.L.C. TOLLY'S RESTAURANT
PO BOX 51, 115 LOCUST, OAKLAND, OREGON 97462
MYRA PLANT, Owner 541-206-2768 cell phone
CHEF JEFFREY PARKER, Chef/Owner 541-25-7658 cell phone
###