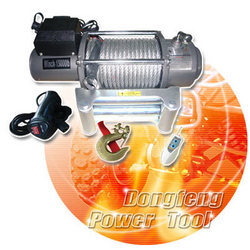 I told them to try improving themselves with skills, knowledge and then create new ideas
(PRWEB) September 13, 2007
Dongfeng cordially invites you to visit its booth at the 102nd China Import & Export Fair first phase at Hall 28 Booth No F27, which will held from October 15th to 20th in Canton China. Dongfeng Power Tool Factory will promote its latest electric winch series at the 102nd China Import & Export Fair first phase at Hall 28 Booth No F27, which will held from October 15th to 20th in Canton, China. Dongfeng is the only manufacturer specializing in the auto-parts industry to have been a leader in electric winch production within just three years.
Dongfeng Power Tool Factory is rather young in the auto-parts industry. It began as a small-scale factory just three years ago in 2004 for the manufacture of ATV winch. Today, it is one of the best qualified manufacturers for 'China-Made' electric winch and Dongfeng cordially invites you to visit its booth at:
102nd China Import & Export Fair (Canton Fair)
Phase 1: October 15th - 20th, 2007
Hall No: 28
Booth No: F27
With three years dedication to the winch industry Dongfeng is now the recognized leader in the design and manufacturing electric winch and hand winch for off-road cars. It enforces Total Quality Management (TQM) and has set up a standard processing program meeting the ISO9001 norms, FCC and CE Mark. Moreover, Dongfeng has marked up 20% of total exporting market share for 'China-Made' electric winch. The company has already established marketing channels in America, Canada, Australia, Britain, Germany and France; besides, Dongfeng authorized its general agents individually in Germany and the Czech Republic. Now, it engages in developing the markets of Eastern Europe and Middle East.
To face the entire disadvantageous macroeconomic environment, such as increasing raw material prices, labor costs and unstable exchange rate as well as an increasing number of competitors, Dongfeng has a unique solution. The General Manager Mr Zhou Shujie believes that enforcing 'Customers-Focus Management' is the best way toward success. So how to improve products and servicesfor competitiveness as well as lowering costs are the front burner for Dongfeng.
Firstly, Dongfeng adopted the 'Toyota Production System' or the 'Just In Time Production System' to its manufacturing management. It is a system to lead the company one step closer toward its goals "Low Costs, High Quality, and Fast Turnover". In the meantime, Mr Zhou encouraged staff self-management. "I told them to try improving themselves with skills, knowledge and then create new ideas," Zhou continued. "Although Dongfeng is young in this field we are not small. We've got an open mind to accept all new ideas or technology and we are always ready to make a change."
Secondly, Dongfeng promotes its services and products through a wide range of channels, such as Internet, magazines and fairs, to reach potential customers and increase brand images as well as expand its markets. In the meanwhile it has already built up a completed regional and national sales network throughout Greater China as well as abroad. With this network, the company serves customers immediate needs, such as strong skillful supported and free winch accessories provided.
Product Focus:
This year on the Canton Fair we will display our newly Heavy Duty Electric Winch Series. With these new winch series Dongfeng's strong R&D team adopted the following functions to ensure durable life and safe environment:

waterproof design for protecting the gearbox and motor
the newest relay with overload protection to prevent motor from being damaged when overloaded.
cold pressed technology for gearbox
special heatproof fluid for gearbox and skid
Undoubtedly, Dongfeng Heavy Duty Electric Winch Series would be the most attractive auto parts for off-road cars and all special vehicles.
Achievements of our strong R&D Team
1. We understand 'weight' of winch is a major key effecting user operations. So we planned to develop a better winch which would be smaller and lighter and constructed of aerospace material.
2. We would continually develop electric winches with multifunction features to satisfy different industrial needs.
3. We are aiming for quality. We expect one day when people mention Dongfeng it won't be just made in China, it will be known for innovation in China, designed in China and becoming a well known international brand.
###