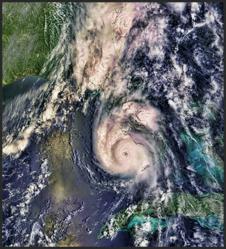 No matter what direction the wind is blowing, WIND will be there! ~ WIND Executive Director, Michelle Griffin.
Orlando, FL (PRWEB) February 01, 2013
Gulf Coast homeowners and businesses eagerly await reports as professionals related to the windstorm insurance industry and storm damage restoration assemble from across the world in Orlando, Florida this week for WIND's Annual Conference. In the wake of massive flood and wind damage from superstorms of recent years, including Katrina, Charley, Frances, Ivan, Jean and others, alarms have been going off, and property insurance rates have gone through the roof ... even if insurance is still available for such events as sinkhole and flood! These topics are front-and-center at WIND.
Since 1995, the size of storms in the Gulf has increased 35%. Having been "bulls-eye" at one point in the progression of four successive, major Florida hurricanes in a row in the mid-2000's, the author and her North-Central Florida neighbors have experienced the fears and insurance rate hikes, with prayers for those whose homes were devastated or loved ones lost. Their eyes are now turned toward the WIND conference prognostications, insights and exhibitors.
Of local Florida interest at the conference, also, are solutions for anticipated future storm effects, the latest technologies for things such as foundation underpinning or grouting for Florida's weak soil conditions and sinkhole remediation as presented by exhibitor, Foundation Services of Central Florida, wind and water damage repair by Florida Source Construction, and properly constructed and reinforced sea walls, a specialty of Stable Soils of Florida.
Windstorms are a serious matter, deadly serious. North America's extreme weather disasters have increased 500% over the past three decades, according to the world's largest reinsurance company, Munich Re. Further, strategic business futurist, Joyce Gioia, predicts continuing major changes in violent wind and rainstorms, with rising storm surges and flooding, adding: "Flooding is responsible for 36% of the loss of life from weather-related events."
Most recently, massive Hurricane Sandy ravaged hundreds of miles from the Gulf Coast all the way up the Eastern Seaboard. This added to the hurricane devastations of 2004-2005 to force sweeping changes in insurance laws, court proceedings and claims processing concerning sinkhole, inland flooding, storm surge and wind damage, as well as new attention focused on advances in construction technologies, restoration techniques, weak soil erosion and sinkhole risk, properly designed sea walls and more.
That's why this year's WIND conference is highly focused on these issues, including special sessions on Florida developments, with top professionals from all different disciplines and points of view to discuss trends, research, their insights, claims processing software and predictive tools, as well as reparations and construction for storm aftermath.
Quite timely, WIND chose noted hurricane season forecaster, Dr. William Gray, for Wednesday's Keynote Speech: "Past and Likely Future Variations in Hurricane Wind Damage." After discussing the unusual hurricane season of 2012 (including Sandy!) and outlook for 2013, Dr. Gray shared insights into the surprisingly large multi-decadal cycles in US landfalling major hurricane activity.
His conclusion? The US has been unusually fortunate in recent years since 1995 (except 2004-2005 and Sandy) in avoiding major hurricane wind and flood damage, but should not expect this luck to continue. His research further indicates that approximately 80-85% of tropical cyclone related damage (normalized for population and wealth) is due to major hurricanes. Also, it is unlikely that there is a significant impact of rising levels of CO2 on tropical cyclone activity.
Windstorm Insurance Network, Inc. (WIND) ® is the first educational member association devoted solely to dealing with windstorm insurance claims issues. It was formed in 1999 with the goal to bring professionals together in the review and discussion of windstorm insurance claims issues. WIND's 14th Annual Conference is at the Renaissance SeaWorld, Orlando, January 28-31.
Dr. William Gray, award winning meteorologist, has worked in the observational and theoretical aspects of tropical meteorological research for more than 50 years specializing in the global aspects of tropical cyclones. He pioneered, and for almost 30 years has issued, Atlantic basin seasonal hurricane forecasts. He has been with the Department of Atmospheric Science at Colorado State University since 1961, and authored over 80 published papers and over 60 extensive research reports.
Foundation Services of Central Florida is a WIND exhibitor, an Ocala-based general contractor, and a specialist in sinkhole remediation and foundation repair, as well as wind and water damage restoration. 
Florida Local SEO, founded by lead consultant, Margaret Hampton, integrates strategic marketing with multi-directional digital media for online branding, reputation management, search and social media marketing, lead generation and customer engagement and related initiatives for profitable growth.