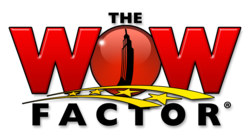 "WIND is a superior, high-quality, secure, turn-key digital network service that includes content management, hardware, software, on-site support and superior customer service," said Don Blanton.
New York, NY (PRWEB) June 08, 2011
The WOW Factor, an award-winning digital content creator for many of the world's leading consumer products companies, today announced the launch of WIND (SM) (WOW Integrated Network Distribution), a new turn-key digital network service solution designed to help clients grow their presence in the out-of-home digital media space by offering unprecedented control over content and distribution.
WIND (SM) was born out of necessity; Don Blanton, founder and CEO, The WOW Factor, observed how much time his company spent re-purposing and scheduling digital content on outdated and limited feature players and networks. As the client demand for more and more features grew he knew it would be cost prohibitive to continue to adapt the existing systems to meet their needs. In response, Blanton and his experienced team at The WOW Factor created several levels of content management services which include WINDplay ™, a new proprietary player that encompasses all the features that any client may ever need now or in the future because of its modular design. Blanton wants the potential client to understand that WIND (SM) is a complete service, that WINDplay™ enhances the service and is not sold as a standalone product.
"WIND is a superior, high-quality, secure, turn-key digital network service that includes content management, hardware, software, on-site support and superior customer service," said Blanton. "Its modular design allows clients to easily add many features so they can continue to grow with the evolving landscape of the marketplace. WIND will allow for more flexible programming schedules to maximize the power of outdoor psychology by integrating content management and network distribution with interactive and social media capabilities."
WIND (SM) features can also incorporate streaming video, cameras, touch screens, RFID scanners, Smartphones and Social Media. Blanton says, "We tell our clients to dream big, because if a feature does not currently exist, we can create it for them." Another exciting feature is WINDsync ™, which allows the coordination of multiple signs/displays on a local network or anywhere in the world with an Internet connection. This feature will enable immersive experiences, add show value, punctuate a brand or connect multiple signs to appear as one display. Other added value services are also available including WINDoptimize ™ and WINDcontent™, proprietary award winning content production services powered by The WOW Factor.
This truly makes WIND (SM) a cost-effective one-stop network solution where creativity and technology meet. "The market wants a hassle-free, reliable and expandable network solution that allows media agencies and end users the ability to contact one company to handle all of their content needs on any type of sign or display," Blanton said.
With more than 20 years of experience creating, managing and distributing creative content, Blanton and his team understand the challenges and limitations of the hardware and software products in the digital Out of Home market. Blanton adds, "It makes sense for content management and distribution to be controlled by creative's with technical savvy who understand the original purpose of the content, the environment its going into, and the audience it is trying to reach."
Customer service is paramount with WIND (SM), and dedicated account manager's will work closely with brands, or advertising and media agencies to understand the purpose of a specific digital message and the core values of that brand in order to deliver consistent, on-target and relevant content when it is distributed across any digital network (e.g. spectacular signs, bus shelters, billboards, retail environments and transportation displays, etc.).
"We're a highly creative company that has invented its own systems to manage content. Initial sneak preview response has been remarkable, and the market is ready for this service and that's why we're thrilled to offer WIND (SM) to the digital media industry at large," Blanton said.
For more information about WIND (SM), please visit http://www.windplay.com or email info@windplay.com.
About The WOW Factor, Inc. ®
The WOW Factor is a premier multi-media digital content provider and experiential event marketing company that creates highly innovative digital content and sophisticated interactive digital brand experiences for out-of-home digital displays throughout the world. Under the direction of founder and CEO, Don Blanton, The WOW Factor has been working directly with global brands and media agency partners since 1991 to deliver customized digital media content that provides a deeper level of consumer engagement. For more information about The WOW Factor, please visit its website at http://www.wowfactor.net.
Editorial Note: To arrange press interviews with Don Blanton, founder and CEO, The WOW Factor, Inc., please contact Jamie Dunne at 917.727.0795, or email jamie.dunne@dunnepr.com.
###