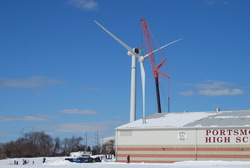 The School Department and the town are excited about the prospect of tapping our local wind energy potential with ASA and ready to get the project off the ground.
South Kingstown, RI (Vocus) July 31, 2009
The school department of North Kingstown, Rhode Island has contracted with ASA to perform a study to advise on the technical and economic feasibility of constructing the town's first utility-sized wind turbine power generator.
ASA's wind energy expert and senior principal, Daniel Mendelsohn will act as principal-in-charge and project manager on the project and lead a team of five sub-contractors including Loria Emerging Energy Consulting, GZA Geo-Environmental, Maguire Group, Sustainable Energy Advantage and Rich Gross Electrical. The team has worked together for the past four years and is actively involved in the development of wind projects in several New England states.
Mr. Mendelsohn, commented, "This is only one of many exciting renewable energy projects that ASA is involved in, with a view to provide experienced, leading edge services and technologies to municipal, state and private clients in the this important and growing market." Mr. Mendelsohn further stated, "However, what makes today's news most notable is the fact that this could be Rhode Island's third megawatt scale turbine and Rhode Island is poised to be at the leading edge of a municipal renewable energy revolution in the northeast and in the United States. This project will be another step towards the achievement of the Rhode Island Renewable Energy Standard requirement of generating 16% of the State's electrical power with renewable resources by 2020."
ASA's wind energy team was recently involved in a similar wind energy study for the new utility-scale, megawatt-sized wind turbine built for the Town of Portsmouth, Rhode Island. Mendelsohn, who led the Portsmouth wind feasibility project, applauds the municipality and school department's leadership in pursuing alternative energy solutions at the local level. North Kingstown School Department is taking aim at similarly offsetting rising energy costs for their schools. Like the Portsmouth project, a North Kingstown turbine could potentially provide over 3 million kilowatt-hours of power per year, enough energy to offset (over a 20-year net cumulative savings) nearly $3 million. Funding for the Portsmouth turbine project was authorized via a bond referendum approved by Portsmouth voters last November which allowed the borrowing in the form of an interest-free Clean Renewable Energy Bond.
Ned Draper, Director of Administration at North Kingstown School Department announced, "The School Department and the town are excited about the prospect of tapping our local wind energy potential with ASA and ready to get the project off the ground."
Regional wind energy projects that ASA is presently involved in include:

Technical and economic feasibility study for the Town of Jamestown, RI
Feasibility study of Peddocks Island in Boston Harbor for the Massachusetts Department of Conservation and Recreation
Feasibility study for the University of Massachusetts Medical Campus
Feasibility study and MTC development grant support for the Plymouth County Correctional Facility, Plymouth MA,
Environmental impacts study for a wind power production facility at a land site on Cape Cod
Support for the Special Area Management Plan, regulatory framework development for the permitting of wind and other energy production projects in the waters offshore of RI
Synthesis of the current state of knowledge of the potential impacts of renewable energy system development on the outer continental shelf for the U.S. Minerals Management Service
Support for the Massachusetts Ocean Management Plan which is in part directed at offshore wind energy facility siting
ASA's Energy Group is also involved in supporting numerous energy development projects in Africa, the Middle East, Caspian Sea, China, Australia, and South East Asia.
Contact Lee Dooley by e-mail ldooley(at)asascience(dot)com or by phone +1 401-789-6224 for more information or for high resolution photographs of turbine/construction or for sample ASA wind feasibility and siting analysis software interfaces.
For more information about ASA visit http://www.asascience.com .
For more information about Portsmouth Sustainable Energy initiatives: http://www.portsmouthrienergy.com .
About Applied Science Associates (ASA):
ASA is a global science and technology solutions company. Through consulting, environmental modeling, and application development, ASA helps a diverse range of clients in government, industry, and academia to investigate their issues of concern and obtain functional answers.
ASA's solutions are based on applied science and advanced research. Our services and products, along with our staff's diverse technical backgrounds, are specialized in the analysis of marine, freshwater, air, and land resources; computer modeling of physical, chemical, and biological processes; geographic information systems (GIS); operational research; and data management.
Headquartered in South Kingstown, Rhode Island, ASA also has offices in Seattle, Australia, and Brazil. The company's website, http://www.asascience.com, provides numerous scientific reports written by its staff and extensive information about its products and services.
###