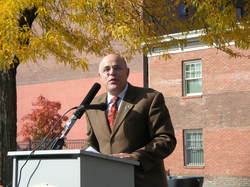 This grant will fund an aggressive program that will establish Aerocity as the clear leader in the field of metropolitan area wind power.
Poughkeepsie, NY (Vocus) October 30, 2008
Vincent Tamagna, president of American Heritage Rivers Alliance, forecasts rapid growth for the Hudson Valley Center for Innovation (HVCFI), a leading business incubator led by Managing Director Les Neumann.
Concurrently, Tamagna saluted one of the Center's bright stars, Aerocity, LLC, manufacturer/distributor of a DNA-like helical wind turbine for urban areas. Tamagna commended Aerocity at the recent ceremonies marking the installation of its first pilot wind turbine on a Poughkeepsie building.
Located in Lake Katrine, HVCFI's "Business Incubator" program is in its third year and already has seven development tenants, each selected from dozens of closely screened emerging companies. The tenants include rising firms such as:

Aerocity, LLC, wind power turbines
Anudata, developers of software for advanced personal productivity
Calleveryone.com, voice-over-computer telephony
Prisma Solar, power generating products
TYRAMM International Inc, software for internet-based retail backroom operations
At the Poughkeepsie ceremonies, Sarah Osgood of the New York State Energy Research Development Authority (NYSERDA), presented to Aerocity a $1 million check -- a grant to fund product improvements. Aerocity President Bill Jacoby noted that "This grant will fund an aggressive program that will establish Aerocity as the clear leader in the field of metropolitan area wind power."
Aerocity's Jacoby also asserted that, unlike most propeller-driven wind generators, their new "Aerotecture" turbines feature DNA-like helical blades and are vertically shaped, making them ideally suitable for urban buildings and bridges.
HVCFI's Neumann noted that Aerocity's vertical turbines are much more bird-friendly and can generate power at very low wind speeds. The power generated can be used in the building on which the turbines are installed; that means the turbine competes only with the retail price of electricity (currently about 20 cents per kilowatt hour in New York City) rather than the wholesale price (about five cents).
Tamagna is president of American Heritage Rivers Alliance, a 501c(3) non-profit comprised of 14 U.S. rivers designated by federal Executive Order as "American Heritage Rivers". The Alliance currently is identifying corporations to become permanent benefactors. Tamagna is also the Hudson River Navigator and is based at Marist College.
About American Heritage Rivers Alliance
In 1997 Executive Order 13061 designated American Heritage Rivers to be named in perpetuity. In 2007 the rivers became an Alliance (AHRA) with a threefold mission of natural resource and environmental protection; economic revitalization; and historic and cultural preservation. Charged with fulfilling the rivers' missions are executive officers of each river, called Navigators; they are not empowered to act until requested by their local communities. That key restriction ensures AHRA will never be a federal bureaucracy. The Alliance is a permanent member of the White House Council on Environmental Quality (CEQ) composed of directors or assistant secretaries of 16 federal agencies that regularly meet in the White House to cut through federal red tape. The CEQ allows AHRA to provide access to federal multi-agency partnerships and to leverage federal dollars. Currently, AHRA is seeking Charter Benefactors for permanent endowments. Charter Benefactors receive permanent scalable returns on their Corporate Responsibility investments.
AHRA President Vincent Tamagna can be reached at 845-265-7000.
###