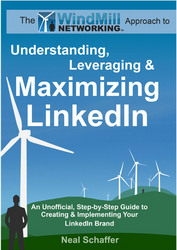 Windmill Networking: Understanding, Leveraging and Maximizing LinkedIn.
Newport Beach, CA (PRWEB) October 27, 2009
Social networking expert and popular social media blogger Neal Schaffer has introduced a highly anticipated book about how to benefit from the LinkedIn phenomenon titled "Windmill Networking: Understanding, Leveraging and Maximizing LinkedIn."
LinkedIn, with its 50 million members, is arguably the most popular and unique professional social networking site worldwide. With the ability to create profiles, post resumes, develop relationships and network with new connections, find jobs, solve business problems through a Q&A forum, and join communities of like-minded professionals through LinkedIn Groups, LinkedIn is now a must for any working professional or business.
That said, while a plethora of written materials exist on career management and how to best write a resume or cover letter, the information available on how to best utilize the popular LinkedIn social profile site is startling insufficient. Schaffer has filled this void with an insightful, yet easy-to-use book for maximizing the effectiveness of this online tool to increase a person's chance of landing a desired job as well as to better understanding the benefits of social networking online for both professional and business uses.
"The benefits of LinkedIn for professionals and businesses are just tremendous," Schaffer said: "I wanted to provide not only a comprehensive and up-to-date book on the plethora of LinkedIn features, but I also wanted to get people to understand it within the context of the Social Web, as only by doing so can you truly maximize your presence on the site. I created the concept of Windmill Networking and teach it in this book in order to achieve this objective."
The idea of Windmill Networking stemmed from his successful blog Windmill Networking and shows how to best use all aspects of LinkedIn. The concept is applicable to both professionals and their career management, as well as to sales and business development executives and small business owners looking to optimize their social media marketing.
Schaffer said: "Understanding the mechanics of LinkedIn without understanding social media and social networking only enables you to gain a fraction of the potential value that LinkedIn has to offer."
After reading the LinkedIn book, professionals will learn about:

Fundamental social networking concepts and how to apply them to LinkedIn
How to create and confirm your objective for using LinkedIn as well as how to develop and implement your personal "LinkedIn Brand"
Windmill Networking and how it can enrich your social media presence for long-term success
Engaging with others on LinkedIn through Windmill Networking and expanding your network globally
Leveraging & maximizing your LinkedIn presence through thoroughly utilizing Applications, Groups & Answers
Finding the best company and most fulfilling job on LinkedIn
What gives Schaffer his unique perspective is his combination of learning all of these from his personal experience while he was unemployed searching for his next career as well as his almost two decades of successful high technology sales experience overseas in Asia. "To me being unemployed and selling is the same thing: Same sale, different product. LinkedIn allows those in transition as well as businesses to advertise on a global scale and be found for free. Isn't that an extremely powerful thing for any professional or company to embrace?" Schaffer asks.
He clearly found his calling, as now he is one of the nation's preeminent bloggers, consultants and speakers on the topic of modern networking strategies.
"After building my career in Asia, I returned to my native Southern California with almost a zero local network. I embraced LinkedIn and social networking when I was unemployed to supplement my lack of local network and quickly understood first hand the power of building up virtual networks that would become my present Trusted Network of Advisors," Schaffer said. "I really wanted to pass this advice along to other people, because in a networking society, the bigger, better, and more connected our networks are, the more value our networks have to offer for everyone. Writing a book allows me to network with more people in a more detailed way than I could have ever imagined. I hope the readers of this book feel like they are having a conversation with me when they read this book, as that was my intention for writing it."
The social media strategist concluded: "LinkedIn is the default yellow pages for businesses and business professionals. LinkedIn is also free career insurance you can never have enough of. Buy into it."
About the Author
Neal Schaffer is an internationally recognized social networking guru helping companies and individuals embrace social media for personal and business applications. His experience in creating the Windmill Networking blog - a social networking world that has become so vast in one year that it constitutes one of the widest read LinkedIn blogs world-wide - resulted in his first book, "Windmill Networking: Understanding, Leveraging & Maximizing LinkedIn." Schaffer is a highly sought-after speaker and consultant noted for his energetic and passionate presentations. His development of Windmill Networking and the LinkedIn potential parallels nearly two decades of success in sales and business development in the technology sector, concentrating on the Asia-Pacific region. He is the former Director of Sales, Asia Pacific East for Datapath, and Regional Vice President of Asia Pacific Sales for Espial. A graduate of Amherst College, Schaffer has a BA in Asian Studies and is fluent in Japanese and Mandarin Chinese. For more information, visit http://windmillnetworking.com
Contact
Neal Schaffer
(949) 378-2360
nealschaffer (at) gmail (dot) com
###