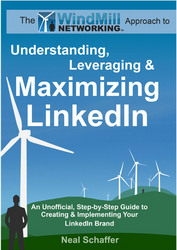 Windmill Networking: Understanding, Leveraging & Maximizing LinkedIn
Newport Beach, CA (PRWEB) February 11, 2010
The DIY Convention recently announced that social media strategist Neal Schaffer's "Windmill Networking: Understanding, Leveraging & Maximizing LinkedIn" received an "Honorable Mention" for best non-fictional book of 2009. Schaffer's book is the only book about LinkedIn that has won such an award to date. A book about the interworking of social networking is rarely acknowledged nor awarded in the non-fictional book genre.
Schaffer's book is described by Kirkus Discoveries on Amazon as, "A primer on the social network LinkedIn… a popular social networking site used mainly to establish professional connections and explore career opportunities and advancement. With 50 million users, it has far fewer members than other services like Facebook, MySpace and Twitter--but, as Schaffer notes, 'LinkedIn is by far the biggest social networking site that caters to the professional demographic.' The book is a catalog of the basic and advanced functionalities of the LinkedIn network… everything from self-branding and establishing connections to joining groups and updating one's status."
"Windmill Networking: Understanding, Leveraging & Maximizing LinkedIn" continues to get rave reviews from actual readers who have posted reviews on Amazon, such as "I particularly like his 'pay-it-forward' philosophy toward networking -- the idea that you network to see what you can give to your contacts, not what you can get from them. It falls in line with my belief in social networking karma," and another raved, "Whether you are a LinkedIn beginner, or have been using it for a while, but not quite got to grips with its functionality, then I would highly recommend this book as an effective way to get the best out of LinkedIn, the world's premier business virtual network." Another reader wrote, "Neal has done what even LinkedIn has not. He has written an easy to follow and detailed guide of using LinkedIn based on his own experiences. For those of you who are serious about your career and personal brand, I would recommend reading Neal's book."
Schaffer responded with the following when asked about his reaction to this award and the positive feedback from his book: "When I decided to write a book on social networking and LinkedIn, my main concern was getting out valuable information to the market as soon as possible. For that sole reason, I chose the self-publishing route. Because we are in the era of social media, anyone can create valuable content and publish it without having any prior relationships with publishers or agents. We have seen how a blog like Mashable has now become the 'CNN of social media.' Whether it be a blog or a book, I am ecstatic to represent a new generation of self-published authors and independent bloggers who concentrate on one thing: providing valuable content to their audience. For that reason, my book being recognized as an excellent literary work in the non-fiction genre alongside so many talented peers is extremely satisfying. My biggest thanks go out to my readers, as well as my Windmill Networking Facebook Fan Page Fans, Twitter Followers, LinkedIn Connections, Blog Readers, and, last but not least, my wonderful family."
As to the growing importance of his book and LinkedIn, Schaffer noted, "As more businesses utilize social media as part of their integrated marketing plan, they are beginning to realize that LinkedIn is an important hub for business-to-business (B2B) social media marketing. I am happy that I wrote my book with a sales and marketing mindset, uniquely appropriate for both professional jobseekers as well as those looking to benefit from using LinkedIn for social media marketing."
To learn more about Neal Schaffer, his book "Windmill Networking: Understanding, Leveraging & Maximizing LinkedIn," or his blog "Windmill Networking," visit http://windmillnetworking.com/.
About Neal Schaffer
Neal Schaffer is Founder and President of Windmills Marketing, a social media strategic consultancy. Neal is also an internationally recognized social networking guru helping companies and individuals embrace social media for personal and business applications. His experience in creating the Windmill Networking blog--a social networking world that has become so vast in one year that it constitutes one of the widest read LinkedIn blogs world-wide--resulted in his first book, "Windmill Networking: Understanding, Leveraging & Maximizing LinkedIn." Schaffer is a highly sought-after speaker and social media marketing consultant noted for his energetic and passionate presentations. His development of Windmill Networking and the LinkedIn potential parallels two decades of success in sales and business development in the technology sector, concentrating on the Asia-Pacific region. To learn more about Windmill Networking, visit http://windmillnetworking.com/.
###