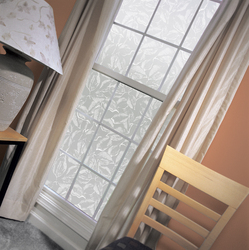 Whether the customer needs a sheet trimmed into one or two pieces or into 15 pieces for a French-paned door, trimming is only $6.50 per sheet.
Cocoa, FL (PRWEB) March 4, 2011
A new "Trimmed to Size at the Factory" service makes it easier than ever for do-it-yourselfers to enjoy the benefits and beauty of decorative window film with professional looking results. Wallpaper For Windows innovative new program eliminates the most time consuming and stressful part of a window film project, trimming the film to size.
While trimming is fairly easy to do, it can be time consuming, especially if there are a lot of pieces to be cut. By having the factory do the trimming, installation becomes just peel and stick. Peel the pre-cut piece(s) from the backing paper and stick to wet glass. The company also provides a free smoothing tool that makes it quick and easy to squeegee out air and water from under the film.
Whether the customer needs a sheet trimmed into one or two pieces, or into 15 pieces for a French-paned door it is only $6.50 for the professional trim. In fact, 10, 12, 15 and 18 light French paned doors, windows, storm doors and single paned glass doors are all one simple procedure for the factory computer-controlled cutters. And design patterns such as the popular Biscayne, Monte Carlo and others, are trimmed so the decorative elements are balanced and centered.
Another benefit of the Trim to Size program is the "Right-Size" feature. If a customer orders too much or a larger size than needed, the order will be "Right-Sized" to the size needed and the difference refunded back to the buyer.
Invented in 1995 by Larry Cashion, President of EtchArt, LLC, Wallpaper For Windows™ has been featured in magazines such as Woman's Day, Better Homes & Gardens, Walls, Windows & Floors, All You, as well as popular DIY television shows. Cashion created the company and its products to accommodate people who want an affordable way to decorate windows and glass doors with the beauty of etched and stained glass.
Wallpaper For Windows™ has important energy-saving properties as well. It is four times thicker than most window films, acting as an insulator on glass to reduce radiant heat while filtering out 95% of the UV rays that can cause carpet and furnishings to fade. The decorative 8-mil thick vinyl film is a non-adhesive that can add privacy, replace expensive glazing and is removable and reusable.
When asked, "What is the best application of this product that you've ever seen?" Cashion says, "That's a hard question to answer because Wallpaper For Windows has so many reasons for being used. Some people have windows and glass doors with horrible views. They never open the blinds and then decorate around them, giving up the light. Adding a privacy stained- or etched- glass design to the glass instantly transforms a negative feature of the room into a positive. And now with our new "Trim To Size" feature we hope to help everyone be able to successfully decorate with Wallpaper For Windows. Whether people are unsure of their trimming ability, have a lot of windows or doors and want the time-savings that having the film pre-trimmed offers, or just don't want the hassle of the doing the trimming, this new service is very customer friendly."
Visit http://www.WallpaperForWindows.com for more information.
About Wallpaper For Windows™
Etch Art LLC has been creating stunning wallpaper for window art and, over the years, they have sold more than 500 miles of Wallpaper For Windows™—covering countless doors and windows and improving the living space in thousands of homes and offices.
They are so proud of their services that they offer one of the best warranties in the business: products are guaranteed to be free of manufacturing defects, and will retain their good looks and adhesion for a minimum period of three (3) years from time of purchase.
Contact:
Toll Free (800) 320.8439 - Phone
(866) 303.3350 - Fax
EtchArt, LLC
3732 N. US Hwy 1, #5
Cocoa, FL 32926
See the Wallpaper for Windows website at: http://www.wallpaperforwindows.com
Read the 5-star customer product reviews and Decorating Window Blog.
# # #